NYE was fun, I decided to go a little crazy with make-up and ended up with a moon drawn on my forehead: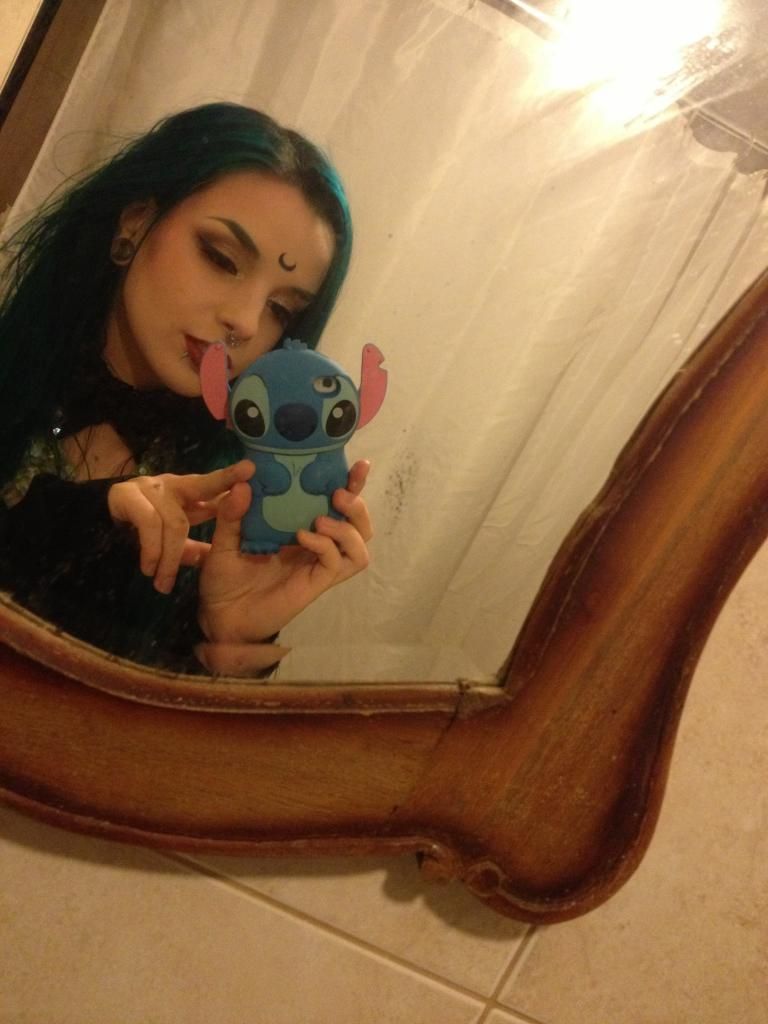 (My hair was still wet in the picture)
We had dinner with friends, someone threw mushrooms on the table, and latter we moved on to Lofte.
It wasn't much fun, and then I ended up spending three hours on the couch making friends with people and clearly needing some sugar (all I drink when I go out is water and sometimes I forget people don't run on water).
We went to Gare at around 6 but I don't recall much of what went on there, we went home around noon and slept for 22 hours (with the occasional breaks for food or peeing).
I've had more fun before, overall it was totally boring.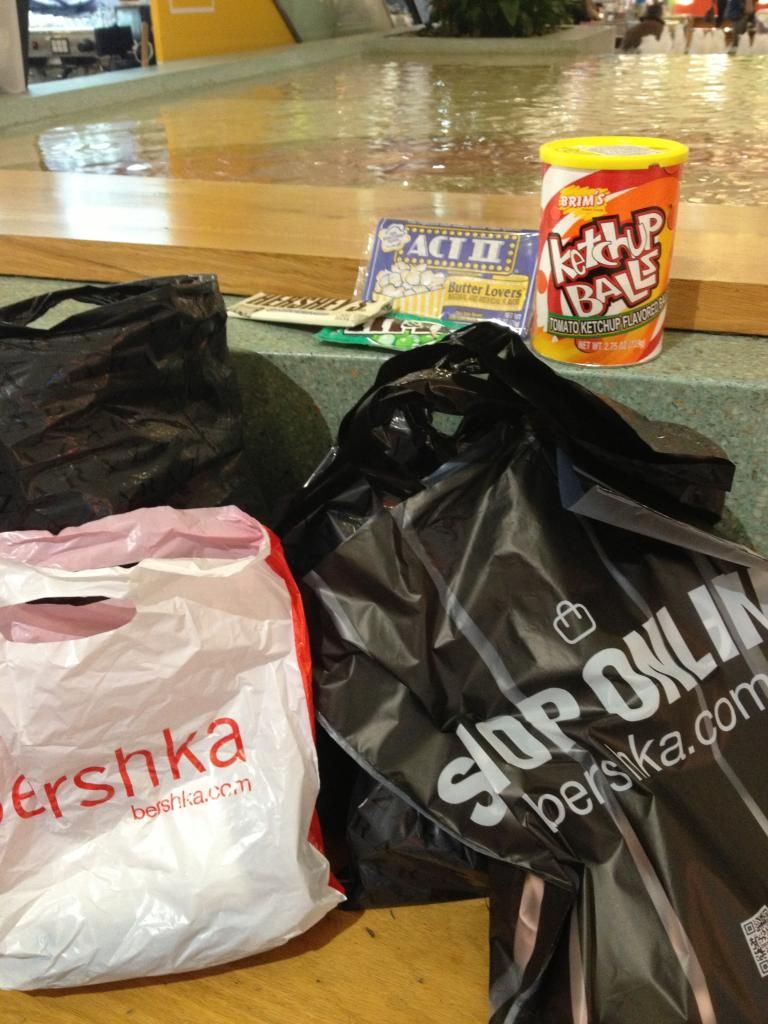 Things got a little out of hand during a store-raid in sale-season.
I spent a little more than I should and I'm broke until the next paycheck - which will only arrive around the 8th or so.
We have a store that sells american junk-food here, that's where the stuff at the top came from.
Upon closer inspection, my boyfriend found a quote from the bibble on that Ketchup Balls can: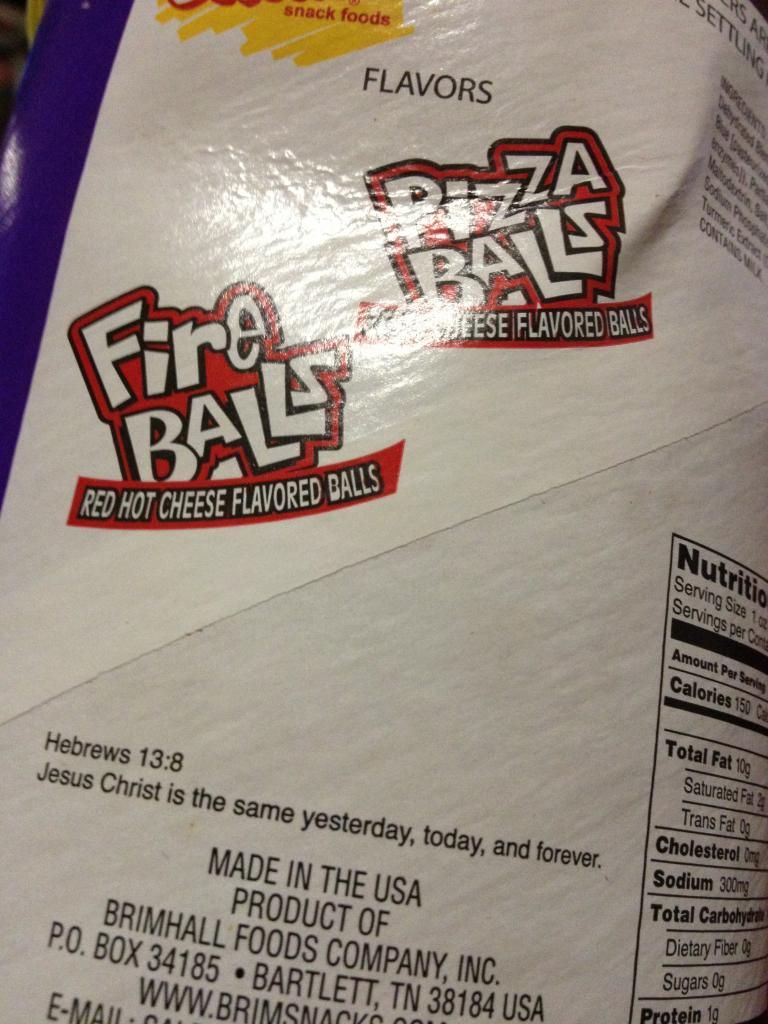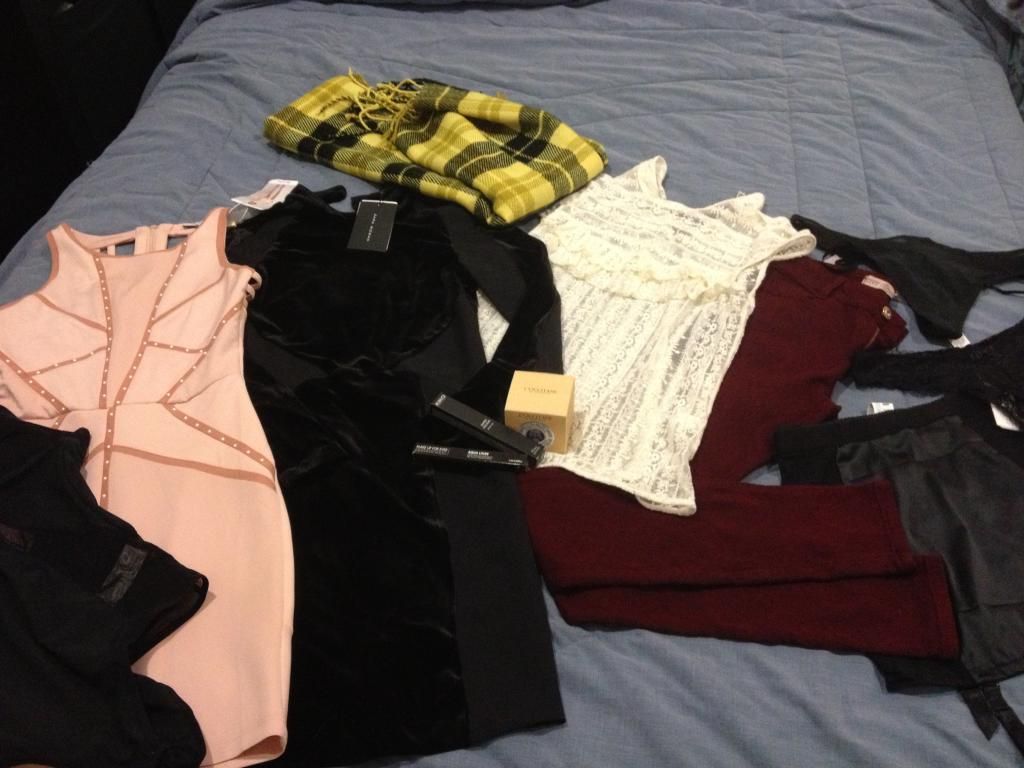 This is what I got.
Two dresses, a lace blouse, oxblood pants, some lingerie items, a yellow plaid scarf, an oxblood mascara and a liquid eyeliner plus my face cream (these last two were not sale items).
So far I've worn everything except the pink dress. I am obsessed with the pants <3 br="" nbsp="">I wore the pants for a shoot I did recently, so at least there will be proper photos of those. 3>
Oh! I almost forgot! I also got a pair of classic black Doctor Martens. Also on sale. But I didn't take any pictures with them.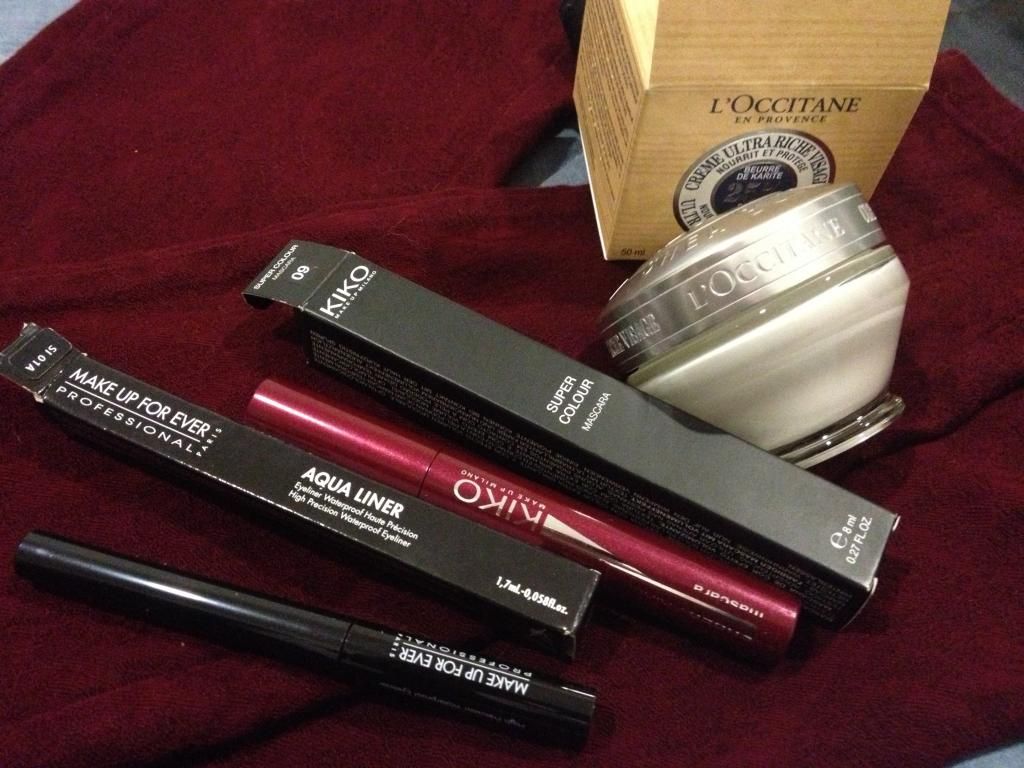 A close-up of the smaller things + the pants' awesome pattern.
The is the L'Occitane 25% shea butter face cream. It is amazing, my skin became extremely dry and it has always been very sensitive - this does wonders for it.
The mascara is pretty fun but I only wore it once and forgot to take pictures.
I've been using the eye-liner almost every day but I do apply gel liner over it because it's too shiny for my taste (I asked the saleswoman if it was shiny and she said no).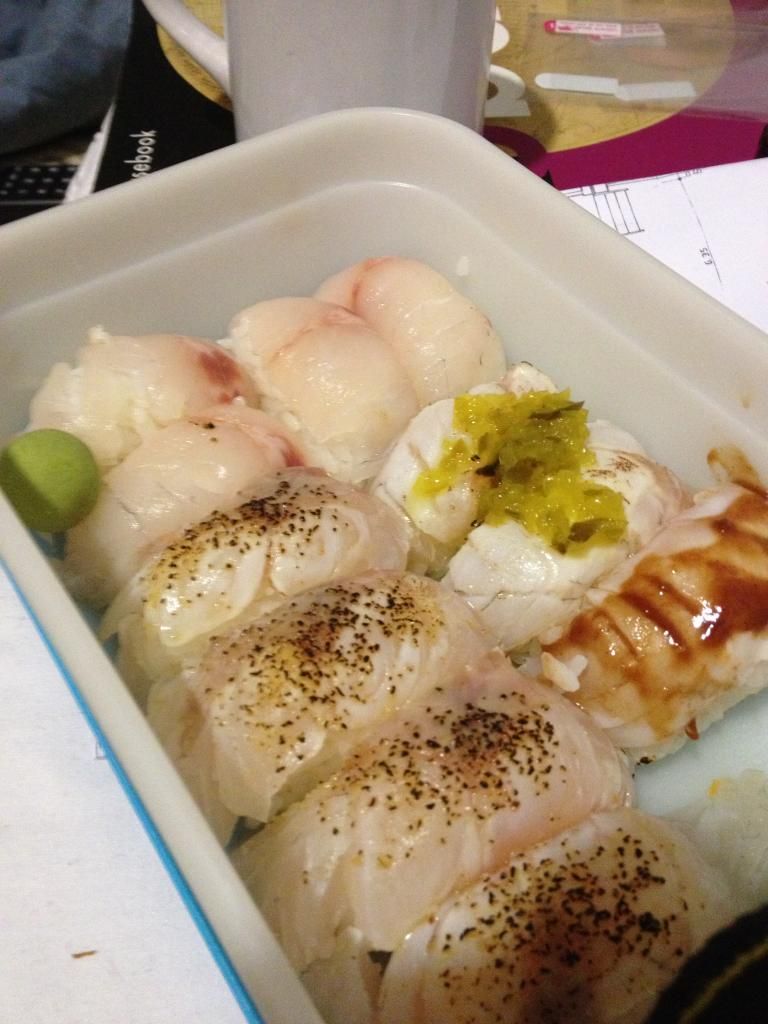 As far as work goes, I can finally make decent niguiri zushi! It's what most people consider "real sushi" you have to work really fast so the fish doesn't get warm from your hands and make them all the same size and shape.
The other day I brought a box full of different "Robalo" niguiri for my boyfriend who was craving some!
The ones at the top are normal, the ones with blackish spots have garlic, the green stuff is a pickle-based sauce and the brown stuff is barbecue sauce.
I'm still very excited about making sushi and I think I'd easily enjoy a career in the area. However I'm still finishing college and I'm considering a master's in journalism or something that would allow me to get a job writing for a magazine or newspaper. Aside from that, I'm also planning on taking a course on make-up and special effects.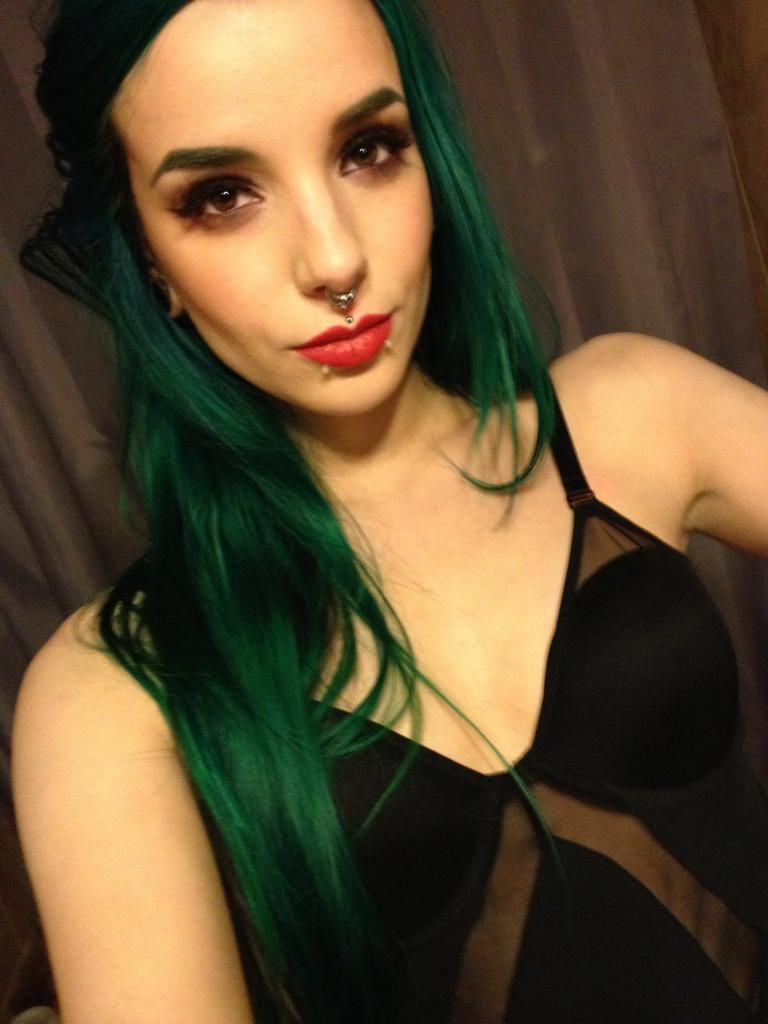 "Hello ladies" - That's the body I got during the sales. I love lingerie <3 p="">3>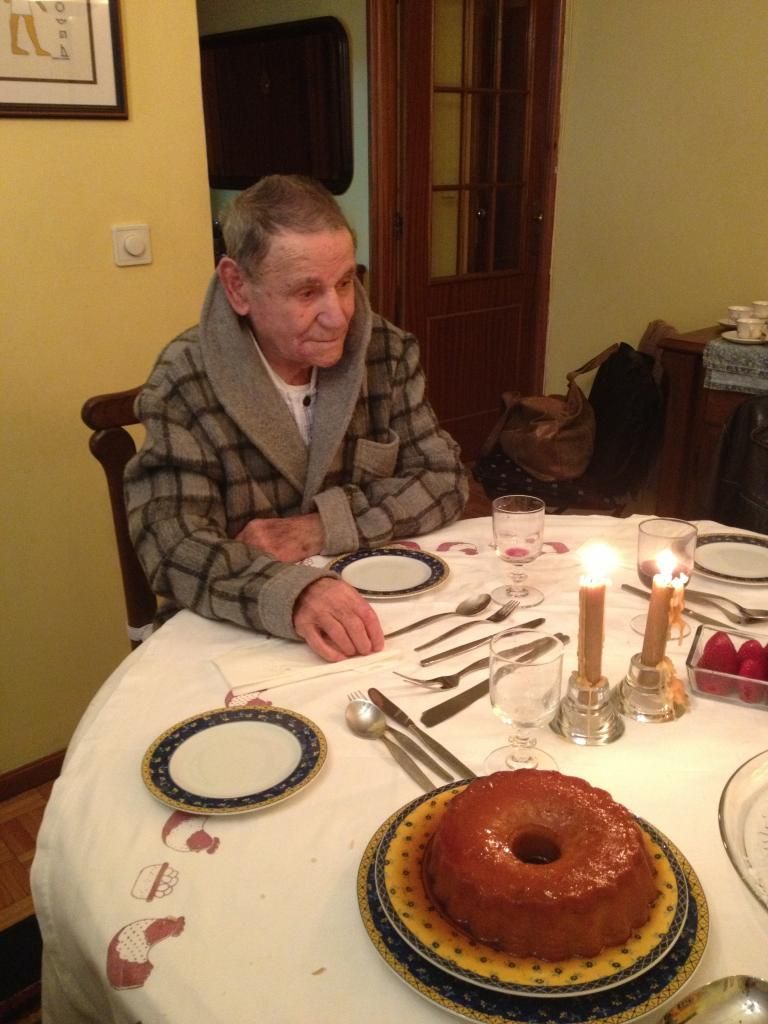 My grandfather turned 93 and we went over for lunch. He lives with my parents, he has been with us since we moved to that apartment around 15 years ago.
As you can see I have pretty epic genes! My grandfather smokes since the age of 14 (though he quit a few years ago).
He was arrested during the dictatorship for being a comunist, his wife died when my father was very young and he never re-married.
They lived in Angola while it was a Portuguese colony but were forced to return and leave everything behind when the colonial war began.
He is the only grandfather I have left since the one from my mother's side recently passed.
I took care of my roots for the first time since I dyed my hair green: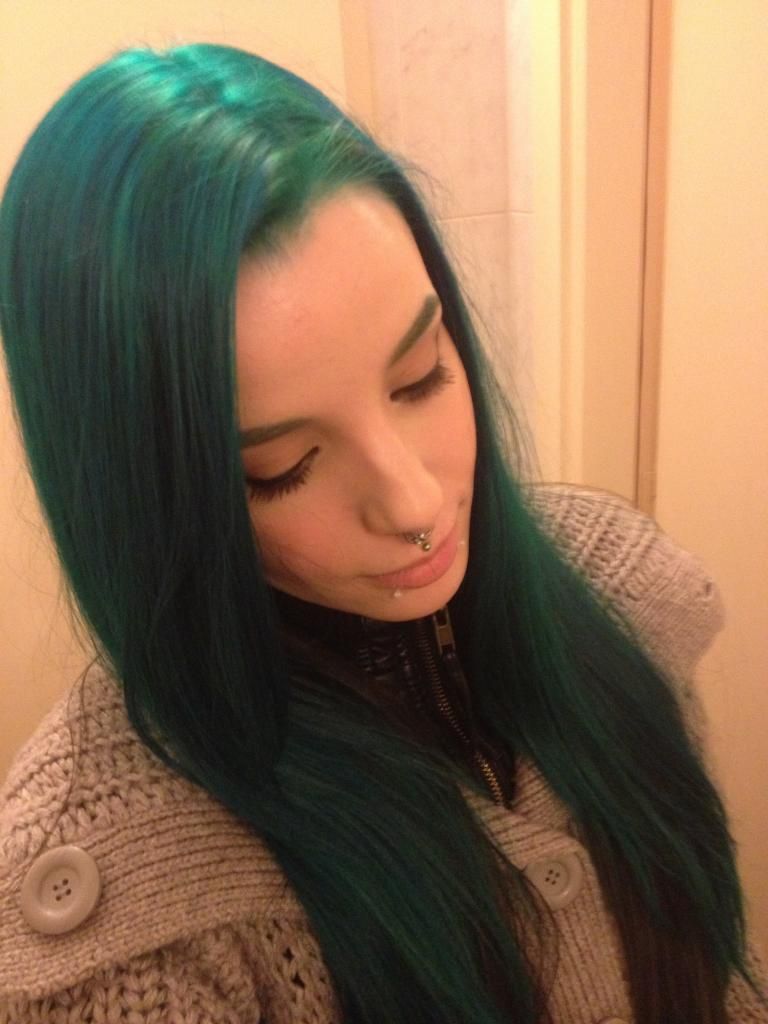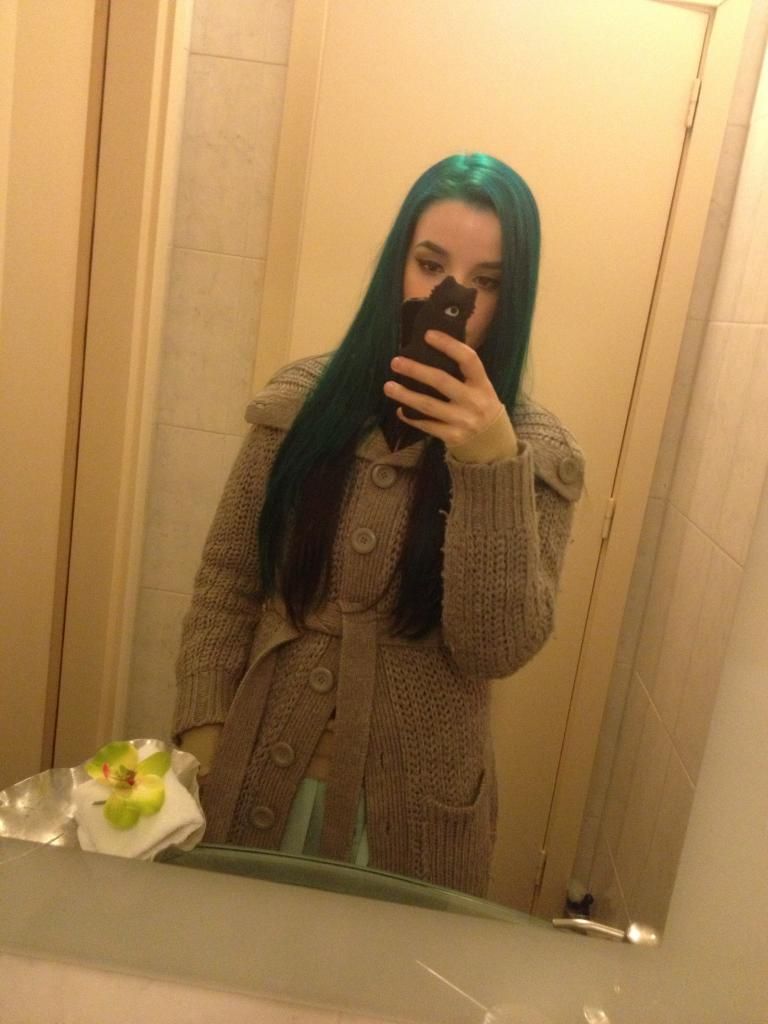 I only dye my roots every 2/3 months (hair tens to grow less in colder months). It's a part of my many tricks to keep my hair and scalp healthy. I'll make an entire post on my routine which has allowed me to have long, healthy and very very dyed hair.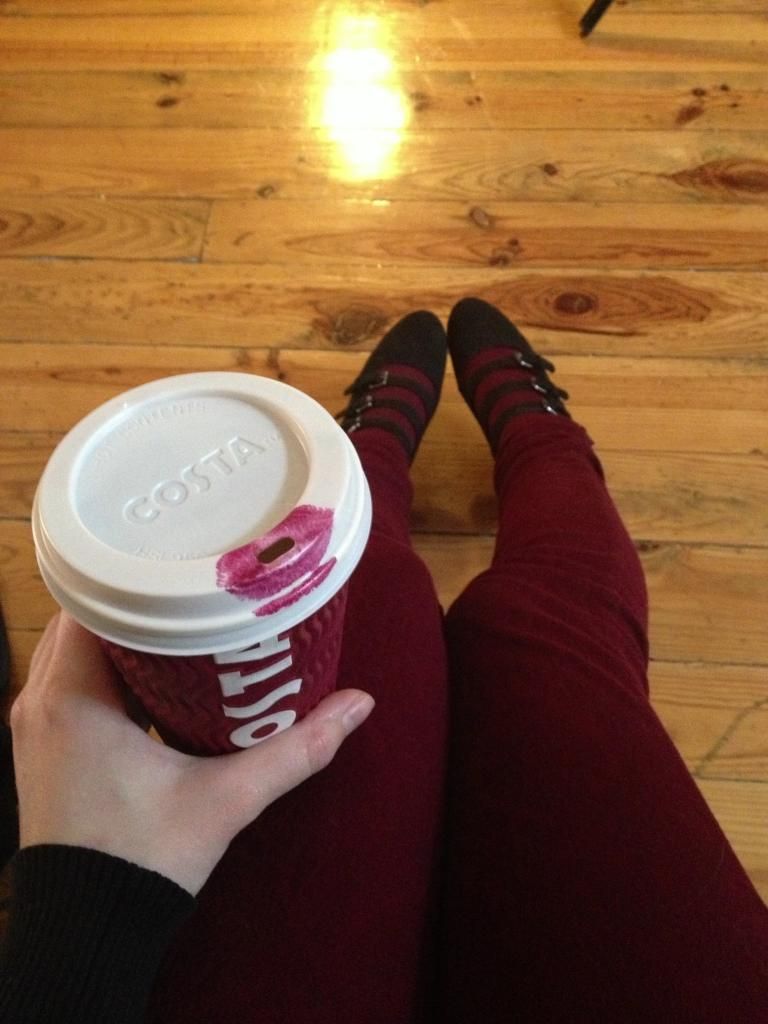 I went for a shoot the other day with Tiago Martins, it's nothing too out there in terms of clothes and make-up.
We do have other stuff planned where I might play around with less conventional garments.
I've been drinking ridiculous amounts of soy-milk Chai Latte's from Costa Coffee which is right in front of my house (almost). But what I'm holding in this picture is a gingerbread-flavoured latte. I've been going to Costa so often that the other day I was given a discount (score!).
That's all for now, Bye!