I tried going to class today and when I got there the room the class was at was empty, and I wasn't sure if I'd have the next class because the schedule was changed the day before and the teacher said we wouldn't have class but then she changed the schedule again and didn't make any remarks on it. FIRST WEEK OF CLASSES AT COLLGE IS HELL.
I didn't sleep last night (I'm trying to get back to a normal schedule) so this is my desperate attempt of doing something remotely relevant today while the sun is still up.
I hate my freshly washed hair and its lack of texture/volume/general sexual powers. But it's so shiny~
My roots are rearing their ugly head, but I only dye my hair every two months because my scalp is sensitive, hair salons are expensive and I'm not really dying my hair to hide my colour or anything. Also, I keep a part of my hair with its natural colour so when the roots come in it doesn't look as harsh since that colour is in other parts of my hair.
I've been thinking about going even lighter or at least more neutral colour. I'm tired of this look though this does seem to be the most flattering natural colour for me, and it's easy to maintain. DECISIONS DECISIONS.
I also miss having a fringe. I'm thinking about bringing it back for the winter, when there isn't any extreme heat making me sweat and all the fringe head stick to my forehead and getting oily and icky all the time.
The darkest colour is my natural hair colour.
MY HAIR IS SO LONG YAY. I miss short hair.
I've been using L'Occitane's shampoo and conditioner for sensitive scalps. It's great, it really relieves the itchiness I used to get especially at the back of my head because of not so forgiving hair products. And it smells amazing (whenever I wash my hair I spend the rest of the day sniffing it like a crazy person).
I've been successfully washing my hair only once or twice a week, it stopped being as oily as fast and it's much healthier. I don't use any heat on it either so even though it hasn't seen a scissor in many months and it's colour-treated, the ends are looking amazingly healthy.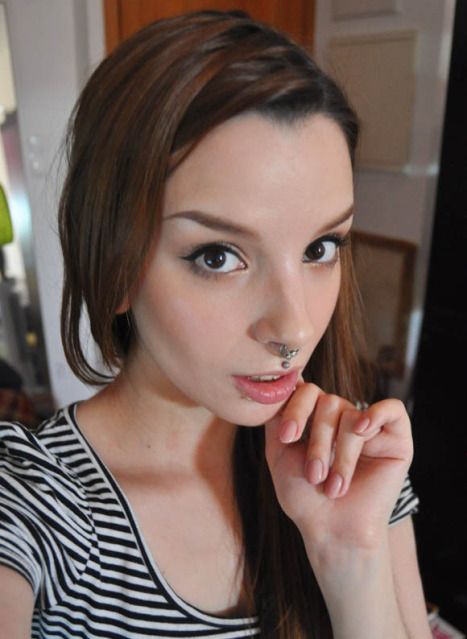 I have short nails with a natural colour. It's a big change for me but I kind of like it.
They're being grown from scratch since while my mother was on vacation for two weeks (she has a nail salon and it's where I do my nails) I couldn't get any maintenance done and I didn't have the foresight to book something before she went on vacation and between festivals and work my nails were driving me crazy so I cut them short myself. They were too long and I didn't feel like using a nail-file because it takes especially long with gel nails.
I still have gel nails (as you can see, gel/acrylic doesn't have to look horrible and fake, my mother is an awesome pro), they don't break and no nail polish will chip on these. It's also good if you chew your nails, I know a couple of people who stopped doing it after getting gel nails. Oh and I almost forgot: you get less of those yucky skins around your fingers because they don't adhere to the gel. Pretty fingers/nails forever.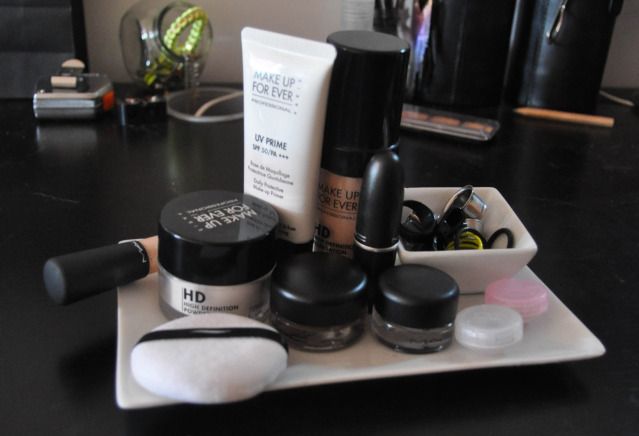 I wanted to share my new organization for my most frequently used make-up products (they always ended up staying out of the drawer anyway, at least this way they have a "place"). It's easy and it looks tidy and cute, I think. On the small plate I put my rings and plugs/tunnels so they're always handy and now laying around on my desk for my cats to throw on the ground and kick them under something.
There you see the MUFE HD foundation and powder, the SPF 50 primer, MAC concealer, a paint pot (painterly) and a fluidline (blacktrack). The lipstick is my current favourite: Hang Up. Today I used it only as a stain with some gloss over it. And that's a Sephora powder puff - I love it! It's super soft and puffy.
Please ignore the measuring tape and ikea pencil in the background, I have problems with putting things back in place.
Now, if you'll excuse me, I'll go clean my face and slip into a coma.