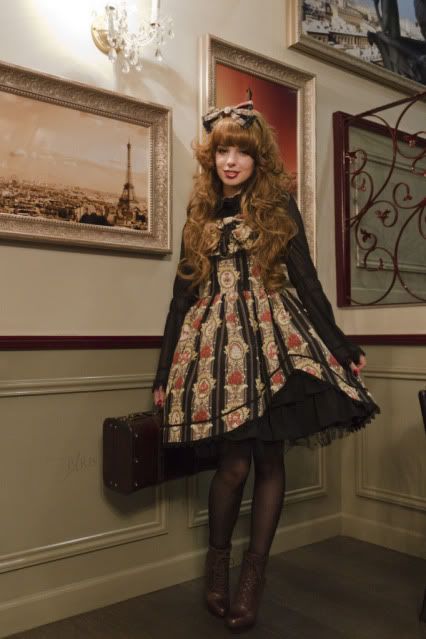 We had a little winter Meet-up here before Christmas, it was a national meet-up so we had some girls (and boys!) who came over from other cities too.
I felt like wearing my Queen's Coach, I also chose this instead of my typical sweet style because a girl asked me if I'd be willing to model for her, and she said this was the dress she liked best. We set the date of the shoot to be the same as the date of the meet-up. It actually turned out that this girl never said anything to me around the time, and I didn't say anything myself because I wasn't enjoying her approach to begin with but decided to give her a shot anyway just to make sure I wasn't misinterpreting her, but I guess by not talking to me before the date to check up on our arrangement, she proved me right. The worst part is, that this girl is among my Facebook friends, so even if she forgot at the time, maybe by seeing the pictures on Facebook or something, she could have been reminded to talk to me and maybe say she was sorry for forgetting out appointment which was a request from her in the first place.
As much as I like having my picture taken, I don't like to run around after photographers and feeling like I'm pressuring them into anything they're not excited about. Especially if the photographer is the one who approaches me, I am obviously not going to be the one organizing everything because if you ask someone for a shoot, you should have an idea in mind. This was the first thing that set me off with this person, the fact that she came to me and when I asked what she had in mind, she said "Oh I don't know, whatever you think is best." - I tried to figure out what she wanted, I asked for a location - "I have no idea, what do you think?" - For the outfit I had to link my closet album on Facebook which she should have already bothered to look through if she wanted to do a lolita shoot... So here's a pro tip for anyone who wants to request a photoshoot (be it a model to the photographer or vice-versa):
Don't ask if you have no clue about what you want.
Okaaay... So I totally went another way there. Back to the subject!
I was not happy at all with my make-up or hair for this occasion. I think my eyes don't look quite as they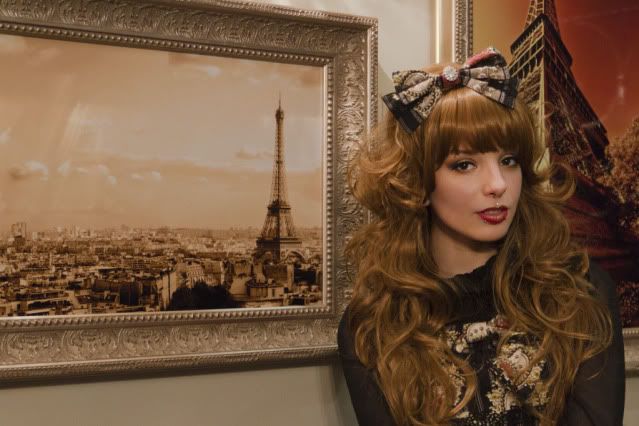 should, although I can't quite put my finger on what's wrong. Maybe I should have skipped the cut-crease look? I don't know, I just think I look too heavy and dark. Perhaps it's the lipstick paired with the dark eyes. I don't think it suits me at all.
You can see in this photo that I used some gold pigment to create a highlight on my lipstick, I got the idea from some runway photos from Dior in which the models had strange metallic highlights in odd areas of their faces. I didn't apply any blush, instead I just contoured my cheek bones for a more gothy look and slimmer face. In this case I think all I succeeded in doing was looking even less attractive. I am not a fan of this make-up at all as you can tell haha.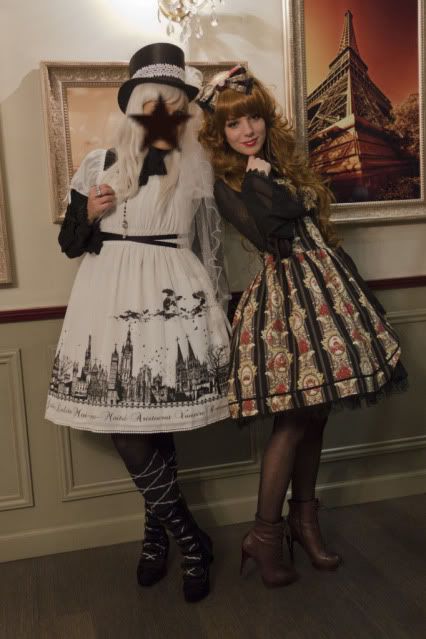 If you're wondering why my friend's face has a star over it, it's because of all the nasty people trashing her on the internet and so I am not giving them any material to keep doing it.
Overall it was great to wear lolita and hang out with my lolita friends, I didn't feel so comfortable around the new people I barely knew or some people I just don't connect with as much. Being as over-worked as I am right now makes me even less tolerant in these situations, I am really sad at this point because between work and college and health issues, I am becoming a really grumpy and moody person. I'll try to fix this by taking a make-up course and quitting this job so I can work free-lance as a make-up artist instead of this stressful demanding job where I get yelled at and threatened and generally disrespected on a regular basis for a ridiculous salary...
I do have a make-up post coming up, which I am really excited about! I am waiting to get paid so I can go ahead and buy a big brush set from Sigma, which I really recommend for their great price/quality. If you buy through this link I am providing you with bellow, you'll get a free gift with your purchase :3 yay!
Oh and I hope you all had a great Christmas! What gifts did you get and what was your favourite present? :D SHARE SHARE SHARE! I love Christmas!