I got my order from Sugarpill Cosmetics a while ago and I was so happy with everything! I ordered two pressed and two loose eye-shadows. I ordered this mainly because I wanted nice red eye-shadows and I wanted to own some of their products so I could compare them with what I already had, and find out if it was worth buying more! Also I caught the Black Friday sale in which they were having a 30% off promotion for all the products. I thought this was a good excuse to go ahead and finally buy something from Sugarpill.
As you can see, I got a hand-written thank-you note from Amy herself (founder of SP), which I really appreciated, especially taking into account how busy she must have been at the time with all the orders from the sale.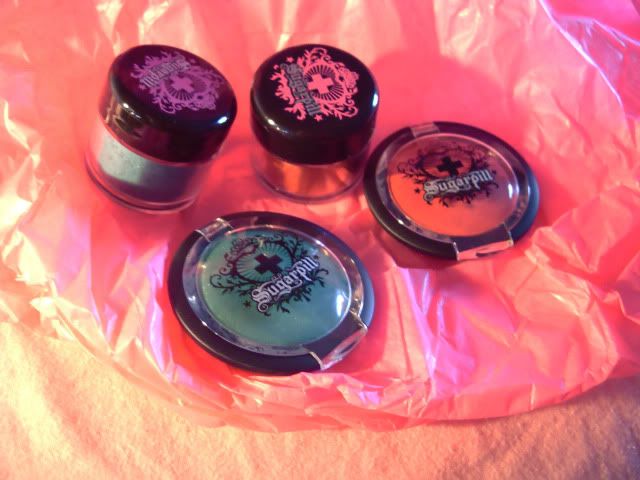 The colours I got were
Darling
,
Midori
,
Asylum
and
Love+
. I love them all though I'd say my unexpected favourite is Darling. Whenever I use it I can't resist spreading it too far up (and not caring). I also really love the reds and as for Midori, I feel like I need to wear it more to really form an opinion. I think I applied it too sheer when I wore it.
Darling is also the one that gets me more compliments, people did like Midori too, of course not as many people are happy to see me wear red eye-shadow, but I really love the way it looks and how it brings out the chestnut brown in my eyes that has some red tones in it. I got asked if I was trying to look like a zombie when I wore Asylum (though the person caught me before I applied eye-liner). Again, I like it and sometimes I do enjoy having a bit of a gothy look too (but don't tell anyone).
The reason I took so long to make this post is that I wanted to have pictures of every eye-shadow worn. I wore all of these with Urban Decay's eye-shadow primer in Sin, which is my favourite. It provides a little shimmery base and brightens up the colours. So this is not going to be 100% true colour I guess. I believe this doesn't do any good for Midori, since it's already such a light colour, it ended up being a little too sheer with Sin as a primer.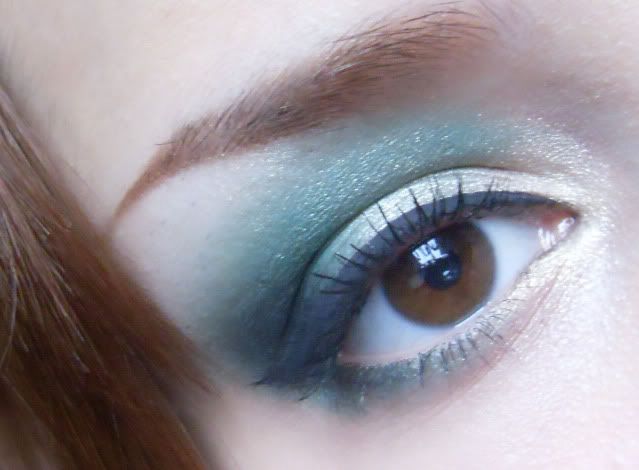 I figured you would benefit from seeing both a complete look and seeing the eye-shadow on its own as well.
The result was a very pleasant minty green, but I really wanted something brighter which is why I bought these eye-shadows in the first place.
For the rest of this look I used "Vanilla" and "Blackout" from the Urban Decay 15th anniversary palette. I love that palette so much - it was a great purchase!
(okay, back to SP!)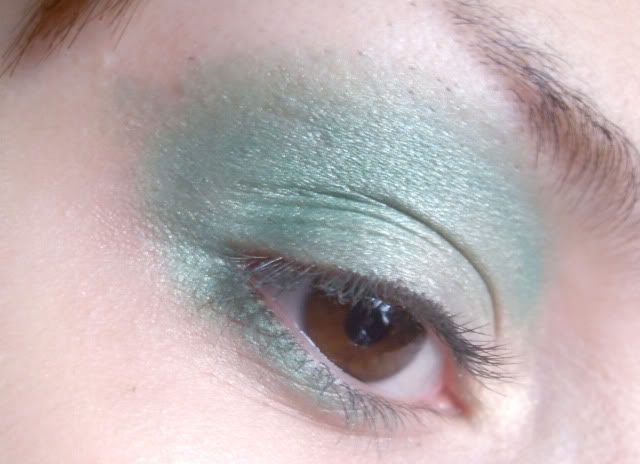 I don't think I had any fallout at all with this, but I think even if I did I wouldn't notice because the colour isn't too strong. This is only one layer that I applied with a flat brush. Since I wanted to try out the eye-shadows and get the full effect of the colours, in all four cases I didn't hesitate to bring them up all the way to my eye-brows and under my eye too.
The good think about working in telemarketing is that nobody bothers me for wearing overly bold make-up (okay but lets face it, if they were going to bother me about anything on my style, especially on my face, make-up is probably not the biggest issue as far as work-place dress-codes go).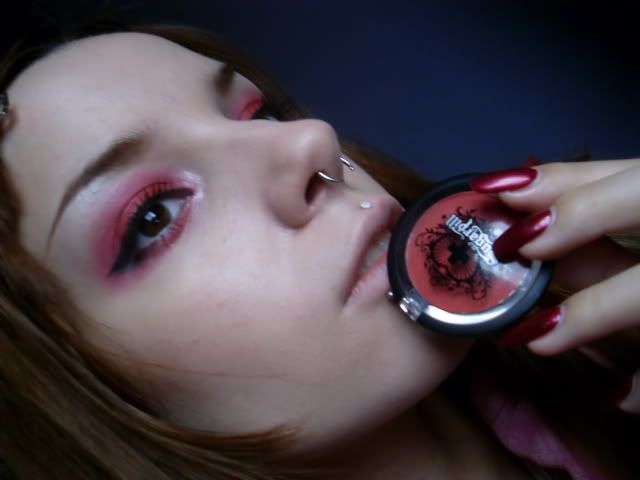 Moving on to the second pressed shadow: Love+! I really wanted a strong red eye-shadow. Something I found out was flattering for my eye colour during my crazy goth and cybergoth days. Actually, that period of my life granted me a lot of crazy make-up skills, I'd love to do runway make-up so I could use that knowledge again. But I digress!
I really like this shade of red and how Sin makes it so shimmery when it's blended out. I like the mate to shimmery effect I got on this. I used another shadow from the anniversary palette but I don't remember which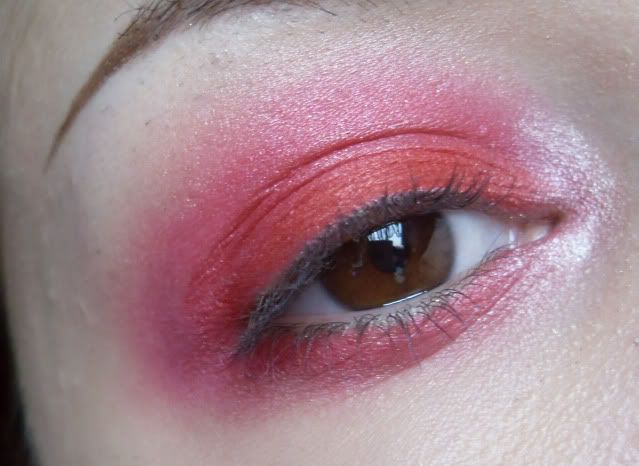 one it was anymore.
I really think this brings out the reds in the brown of my eyes. Or am I just imagining things? I've learned to love my brown eyes over time, although most people in Portugal are fascinated with how beautiful blue or green eyes are (obviously because those are less common here), and I used to feel like that too, but now I wouldn't trade my brown eyes for any other shade. I like the way this mixes into my skin-tone too, and I didn't have too much fallout, although there was a little bit, and it took a little more effort than I'm used to to pick up the colour and get it to be as strong as I want it. But it's good to have the option to go lighter or brighter with eye-shadows, I guess. Urban Decay and Make-up Forever are still my favourite brands, but it's not fair to compare SP and MUFE/UD.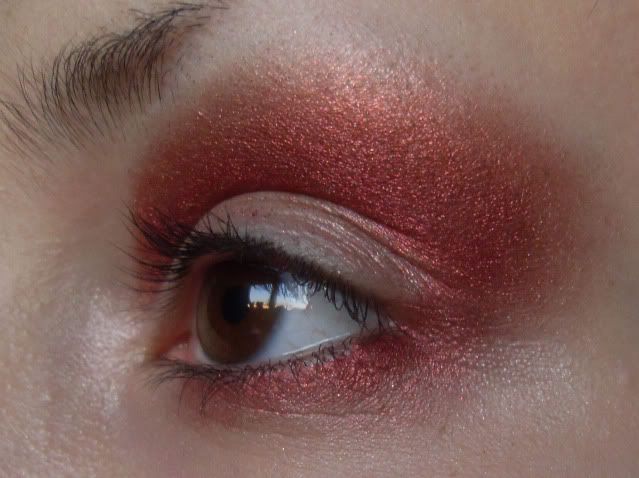 Asylum is absolutely amaaaah-zing! I love red and I love copper, and this is the perfect meeting point between those two, I think. Metallic colours are also really trendy at the moment so if you care about that sort of thing this is a good bet. Even if it's red I say you should give it a try, you don't have to use it as dramatically as I show in the first picture (as I said before I wanted to get a good idea of the colours so I wanted to have them all over my eye), you can do something like what I did for the finished look with this and apply a black over it, using Asylum to add a little something to what could be another plain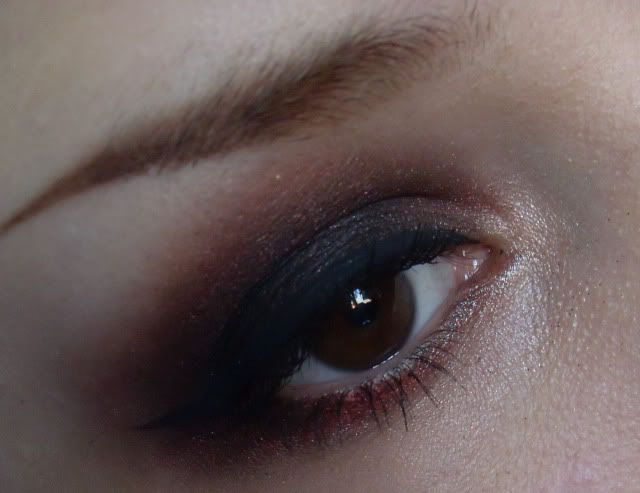 boring smokey eye. In this case it doesn't even really look red. I just did this to try it out and show you a possibility for toning down this shade that many people might find intimidating.
A little off-topic: I know my eye-brow looks terrible in this picture, since they always end up being covered by my bangs I will sometimes forget to properly groom them.
The black I used to this was again Blackout from the UD 15th anniversary palette.
In this case, I think the Sin primer is a great choice because it brings out the already shimmery metallic nature of this loose eyeshadow. Speaking of loose: I had crazy fallout with this! it's natural because it's loose and it's a strong colour, it was easier to get on the brush, but I advise you to use a paper towel under your eye when applying it.
And so finally we come to Darling. I think it's lovely, it's the perfect shade of blue and I really can't help spreading it all over my eyes. I used it more than once and I always end up with a huge spot of blue around my eyes. It's not a really big deal since I have a long fringe anyway that sort of takes the focus away from my eyes anyway.
You also get to laugh at my ridiculous eye-brow without a tail. I shave the rest off on purpose because my natural tail grows too low and I don't like it, it makes my eyes look droopy and closes down my face. Sometimes I wonder if I should just go back to shaving the whole thing off, but I do like the little hairs there and it looks a littl more natural and flattering for me.
I don't have a picture of the complete look for this because I did it before leaving for work and ended up being late. The other eye-shadows on this are (yup, you guessed it) from the UD palette. I didn't like it though, I like wearing the blue. By the way! This Darling eye-shadow is actually like a lighter version of Deep End on the Anniversary palette. I found out because I tried to mix the two and couldn't really tell the difference.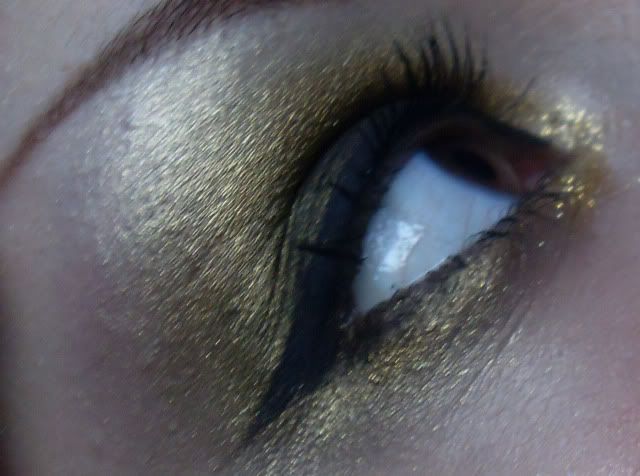 Finally, I'd like to talk about the sample I got with my order. The colour is
Goldilux
, which I was really happy about because I almost bought it, but didn't because I thought it might be too similar to the
Metal Powder
I have from MUFE. And I was right!
Here is a picture of both: MUFE's on top and SP's on the bottom. The only difference is that Goldilux has some small glitters in it, and the Metal Powder is just a plain strong metallic pigment. There is no comparing the two, of course MUFE's is endlessly better, there is no fallout and it goes on super-smooth, whereas Goldilux has considerable fallout and needs a bit of layering for a solid colour. But of course the price difference is huge, with the Metal Powder costing almost twice as much for a smaller amount of product. But having said that, I will not be purchasing Goldilux.



Phew! That took FOREVER but I hope you find this helpful and do go buy you Sugarpill Cosmetics' shadows!