I've decided to make a sort of lolita haul post with my purchases since about September, because I'm so happy with all of them!
What I got:
-
Royal Poodle skirt in blue
;
-
Lyrical Bunny rucksack in pink
;
-
Holy Night Story majorette hat in black
;
-
Starry Night Theater strapless JSK in black
;
-
Starry Night Theater Headbow
;
-
Throbbing Ribbon Bangle in white
;
-
Pastel Ribbon trench-coat in black
.
All from Angelic Pretty of course! I seem to have stopped buying things from other brands altogether. Oh well :'D
Of course I took some pictures of my own of most items. I will also proceed to writing small reviews/opinions on the items, mostly things I was surprised to find out and would have liked to know before the purchase, because it might have changed my mind one way or the other.
There isn't much to be said about the skirt, I think. It's a high-waist half-corset skirt, which is nice and gives it that more elegant look. I think it's a good skirt to attempt Hime-lolita with. At least that is my plan!
The print itself is very cute, I love the combination of soft pinks and blues, and how it's a pattern, which is good variety when compared with all the border prints in my closet. The brooch is detachable (which is why it's so often missing when people sell this skirt), and finding this skirt still with the bow played a big part in my decision to buy it. I would actually love to have the OP version of this or even the JSK, but being able to fit into lolita skirts is a lucky thing I shouldn't waste, since you can create a larger variety of coordinates and dress them up or down more easily.
The bunny is beyond adorable, I was so happy when I got him and loved all the details. As you can see, he has a little ice-cream cone! Of course the biggest down size to this bag is the space, it has very little space inside, I can maybe fit a small wallet and cell-phone in there. But I didn't buy it expecting it to be practical and super-useful. Again, I'm a sucker for the pink and blue combination, it looks adorable and it means this will match both blue and pink-based outfits. And other colours of course. I discovered I don't really have a lot of dresses that match this, since I have a couple of red or black items, which I suppose is a good excuse to go for more pink or blue dresses in the future.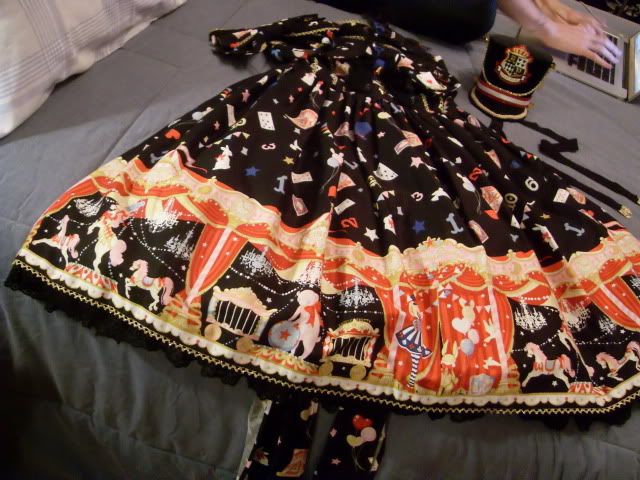 Okay so on to the star of the show! This dress is wonderful and even better than I expected. The little tulle brooches it has on the waist are
detachable
, that was a big plus for me since those were a big turn-off for me regarding this dress. If I knew that I would have been more eager to buy it, but I think that lack of enthusiasm showed and helped me lower the price more effectively (I always try to get the sellers to go at least a little lower, I figure it's usually worth it). I was also initially planning to buy it in the blue colour-way, but since I already had that Holy Night Story hat in black, I figured this would be a perfect match (I don't really like the HNS print). I can't wait to create a really OTT outfit with this!
I really lik that it's strapless, I think it suits me very well because I have skinny arms and shoulders where you can see all the nice collar bones. I do need a black long-sleeved blouse to
wear this in the colder months though.
The trench-coat was a big surprise! As you can see in the picture, it's totally wearable without a big dress under it without looking awkward. So not only did I get a nice black lolita coat, but I also got I really gorgeous black coat for everyday wear!
The reason for this is that most of the extra fabric used to accommodate the big lolita skirts with all the petticoats and "poof", is hidden in folds on the sides of this coat, so they don't create an awkward shape when you don't have the volume underneath.
In this case, I was wearing my pink Holle Kitty pajamas underneath, because when the mail-man arrived I was in bed being a lazy bum. You can also see on of my cat's tails, because she wanted attention and I was too busy being euphorical about my new
burando
.
Behold the wonders of the hidden fabric!
Clearly this can accommodate even the most insane amount of volume with no problems. Angelic Pretty coats always seem to take that into consideration.
The big bow on the neck opens up in the middle to allow you to easily take the coat off and such, the bow in the middle detaches on one side of the same purpose, and the bows on the sleeves are removable. No other bows are removable or partially so, you either want a sweet bow-filled coat or you shouldn't be looking for Angelic Pretty coats at all haha.
This is warm enough for the sort of cold we have in Portugal, I already wore it around casually and it was warm enough for the 9º weather with rain and wind we're having here at the moment (I am currently in Braga and not in Porto, which is a bit colder).
This is the back of the coat. You can't see it because this isn't the best quality photograph ever, but it has "Angelic Pretty" embroided on the area between the shoulders, which is a nice detail. In my opinion, the coat itself already screams "ANGELIC PRETTY" to those of us who are at least somewhat familiar with the main brand-names.
I adore the bow on the back, it's very lush and well done, with the pearl details and the angled edges.
Here I am also showing you the full fabric versus the hidden fabric part. You can also see if you understand a little about garment construction, that this is very well done as you can easily and comfortably move your arms about without the entire coat moving together with them.
The lace on the bottom has little crowns on it which I think doesn't make much sense, but the rest of the lace used has bows which is cuter. The lace is synthetic as usual.
Angelic Pretty always seems to make everything just right for my size. I can understand that sucks for everybody else who isn't 1.60m and weights 47kg, but it's good for me nonetheless! And it's my favourite brand so it's fair, haha.
I also want to do a make-up haul, but this is already getting too long as it is, so that will happen another time!
I hope you enjoyed this!