Okay, I admit I've been neglecting my blog. But I have good reasons for it! Mainly working to afford my lolita and studying to be an educated frilly individual.
I have been investing in lolita of course, I got some new items, of which two were at the top of my wishlist for a while! So I am very happy with those purchases, which have triggered massive outfit planning~! I decided to make a sort of Angelic Pretty haul post in the near future, now that I finally found my long-lost camera cable.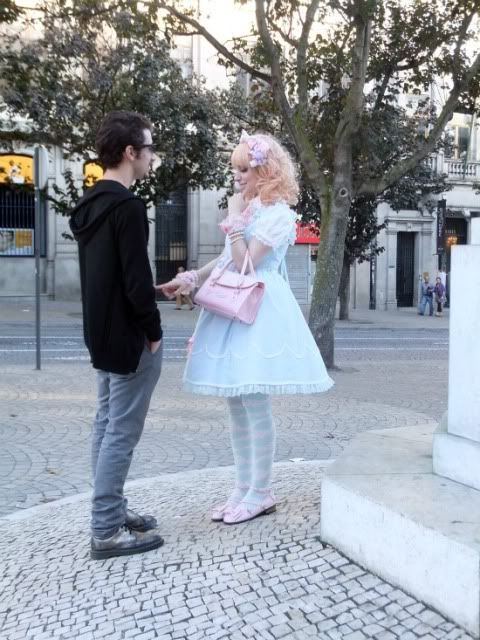 It has been a while since my last Meet-Up, which was organized because we were supposed to take pictures for a newspaper interview, but the photographer didn't show up. My boyfriend accompanied me, we had some snacks at the usual french bakery with cute-looking mediocre-tasting cakes.
I wore the velveteen Milky Chan Apliqué JSK from Angelic Pretty in blue, together with Wrapping Ribbon socks, Jewel Blouse, pink wrist-cuffs and unknown head-bow. All also from Angelic Pretty. The rest, like my Hello Kitty bag and random hair clips, is off-brand.
I started stretching my septum, but I already ordered two plugs to hide it when I wear lolita, if I feel it's necessary. For now I am sticking to the plan of going up to 3mm and stopping there, but I'm already being tempted by bigger sizes. Same goes for my lobes.
Also, I'll be trying to get my nostrils pierced this week. Yay body modification! I'll be extra sparkly since the jewelry I got for my nostrils has little rhinestones. Always with the rhinestones on everything like a crazy shiny maniac whose face shall become a blinding sight at the slightest availability of light. I can see my face becoming one huge beam of light in photographs taken with flash or under direct sunlight.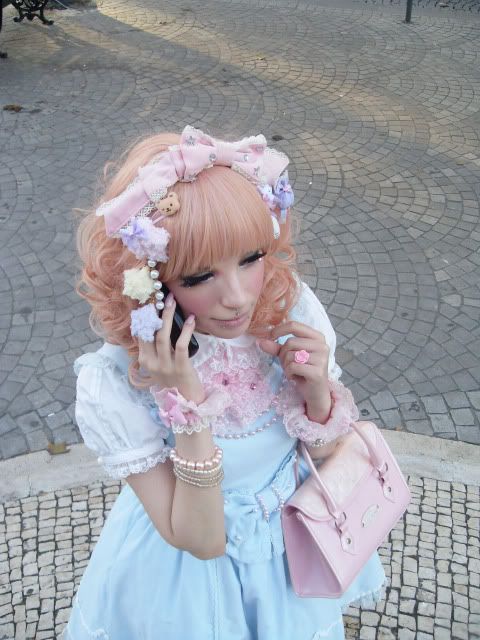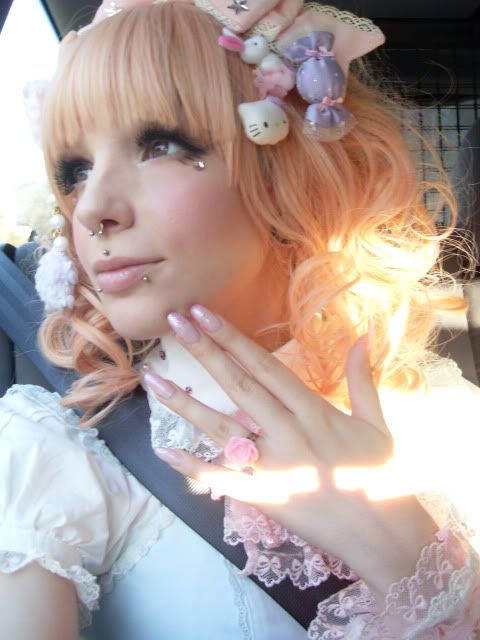 So, that's all I have for you now. I'll try to update again this week about my recent purchases and so forth. Meanwhile, I leave you with a recommendation: watch My Little Pony: Friendship is Magic, take acids, convince all your friends they're not human.