Yesterday I went to watch
Final Destination 5
with my boyfriend at
Marshopping
,which was the only place close by where it was showing. One would think I'd have a hard time wearing lolita at the mall, but nobody made any rude remarks or anything. In fact, most people were just surprised or enjoying it.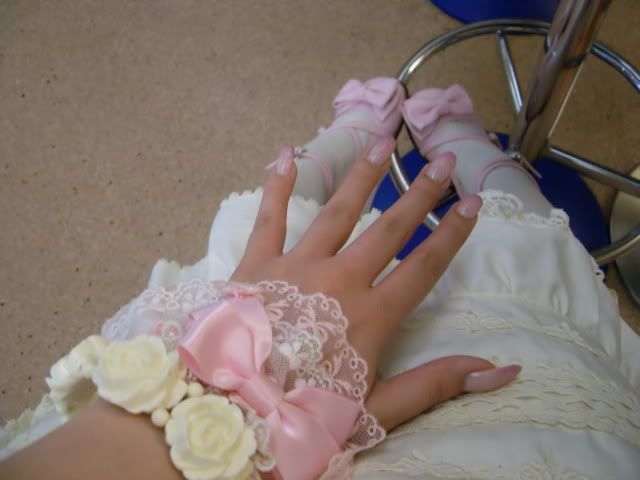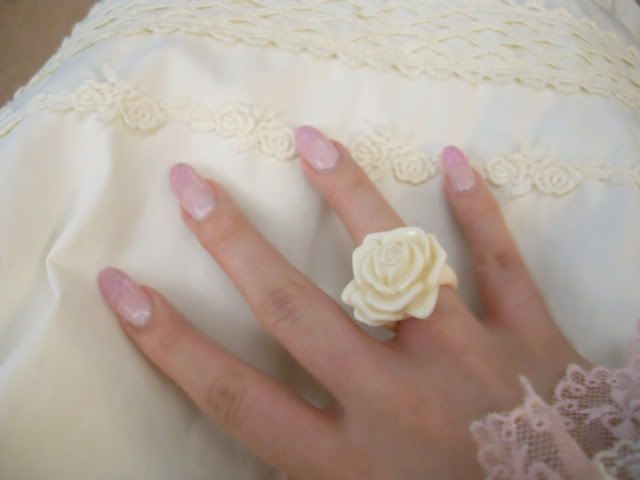 We had dinner at the food court like a couple of teenagers who can't afford restaurants and ran around the mall waiting for MOVIE TIME.
I felt like wearing lolita so I did. At first I thought of wearing black, but then I remembered my super-gay glittery pink manicure, so I actually just matched my clothes to my nails: pink, white and off-white with lots of frills and girly-ness. I really loved this colour-combo even though it was so simple.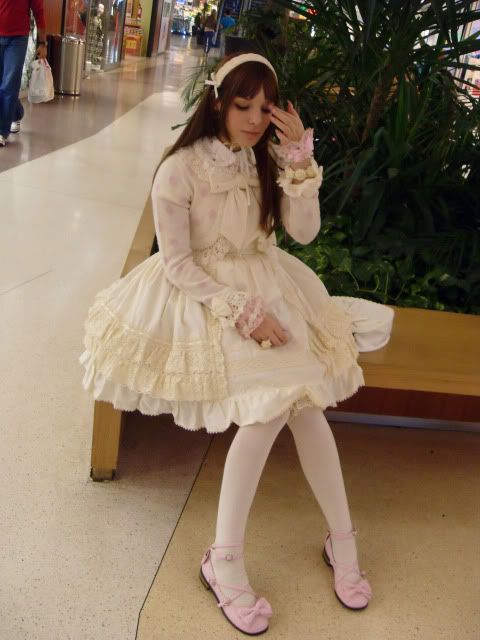 I decided to be casual since I was going all "lone lolita" with my boyfriend at the mall. No crazy colourful prints or huge hair with a massive bow mounted on it, instead I picked soft colours and a plain dress.
I'm wearing the
Polkadot Ribbon Bolero
, white
Jewel Blouse
with pink jabot, BtSSB's
Lace Frill JSK
, over the knee BtSSB lace top socks and Heart Bag in white. The headband is from Mary Magdalene, wrist cuffs are from Angelic Pretty and everything else is off-brand.
I didn't do anything to my hair, it's naturally straight like this.
This photo was taken just after my boyfriend walked out of the game store and found out they didn't have Demon Souls which he was planning to buy. "Sadface", he says. I decided to sit outside and wait while fixing my shoes and not watching as my fate was about to be shattered by a video game which would keep my boyfriend busy forever and ever and frustrated by the mystical difficulty level that Demon Souls is rumored to possess. Alas, the game was not available and Diablo 3's beta is yet to come out, so I get to watch silly cartoons with him. Yay!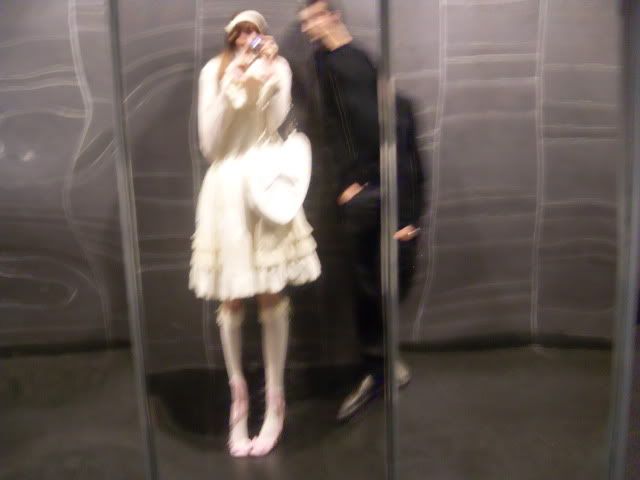 I found a weird mirror wall and called him over so we could be retards about it together for a while, which we were. Once tired of acting like idiots in front of the weird mirror wall, we proceeded to walk around some more, went in to a toy store which had playing food items made to look like real food items, I was attracted by the miniature fake Nutella jar and there we proceeded to being mesmerized by the ensemble of miniature food thingies, then went on to be flabbergasted by the miniature animals, which I used to argument that cows are adorable and thus boyfriend should feel bad for eating them. My main argument in favor of why cows are cute is their big pink noses which are shiny and cute and pink. And their babies are like little mono-tone fawns.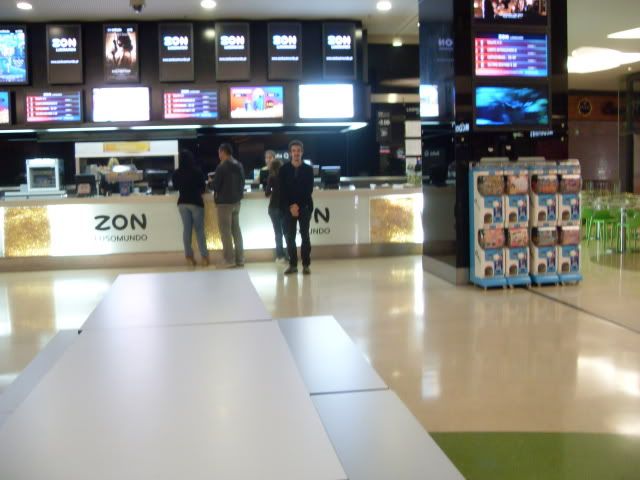 Boyfriend as he waits in line to get change for the machines located to his left.


After the movie, boyfriend waited in line to get change for the toy machine thingies you see there to his left, they contain magical wonders such as Hello Kitty rings and other awesome prizes that I always desire t possess. Knowing this, boyfriend promptly offered his monetary powers to acquire these sparkly treasures of wonder and plastic.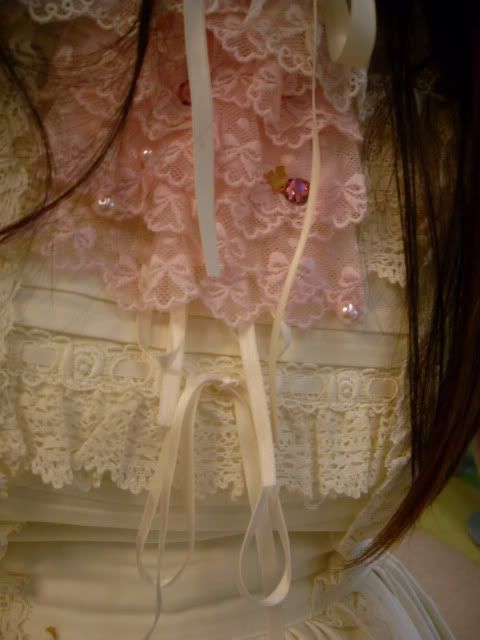 Alas, the ring turned out to be the green one, which I already had from the last time we went to the movies together and he also made me an offering of plastic kitten shaped jewellery.
While he was waiting in line for coin, I acquired photographic evidence of how, during the film, I successfully accessorized my coordinate further with delicious pop-corn. Or shards of delicious pop-corn, as seen on the picture of my boobs I so carelessly decided to take in public and proceeded to publish on my lolita blog like a class-less lolita-chan. You mad, loli police?
While we waited for our ride back home, we lingered in our sadness or despair, caused by the failure to purchase Demon Souls or gather a Hello Kitty ring I didn't already have among my epic collection of trinkets. Upon closer inspection, we discovered the machine seemed to be full with green rings. THE OUTRAGE was short-lived, as I quickly came up with the solution of offering it to my green-haired best friend, who also happens to be a Hello Kitty enthusiast. Everything went better than expected? Perhaps, but I expect a different ring next time.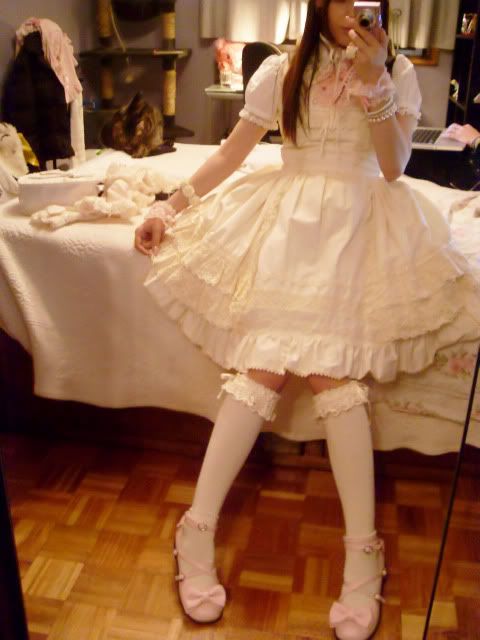 I only actually remembered to snap a picture of my outfit without the bolero when I got home, and since the light isn't the best, the photo isn't great either. But you get an idea, it looked cute and the jabot from the blouse really bring the pink and the white together.
Notice the glory of the kitty-castle in my room, with the kitty herself attending to her genitals in the foreground.