I am a lazy bum and only decided to update on the last Meet-Up now. This was the "Meet up that wasn't at Rota do Chá" and I arrived two hours late because it was Sunday and I had a busy Saturday night.
I decided to try something new and bring my eye-liner a bit over the usual point at the beginning of the eye. I don't really like it so I won't be doing it again.
There is the usual sticking of sparkly things around my eyes, huge eye-lashes and circle lenses-thing going on, nothing new there.
I replaced the balls on my lower lip piercings for little pearl-like balls, I think they will work better in other colours which I will try next time.
Pink blush overload, on the cheeks and with a somewhat rounded shape, for my lips I only applied some lip balm because they're already kind of full and I don't like to make them look any fuller. I also apply foundation on the sides of my lips to make them seem smaller.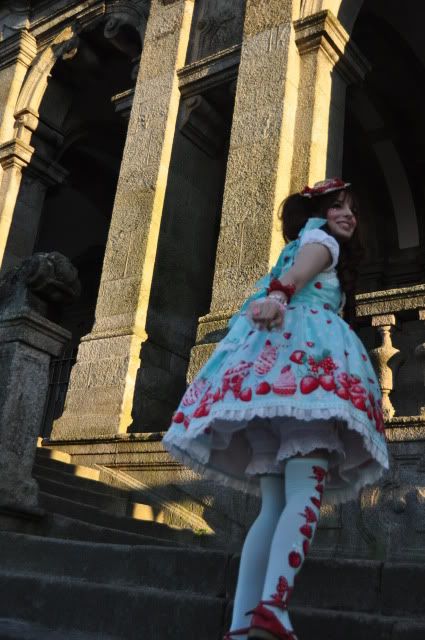 When we all got together we went to take some pictures before the sun was gone, there are tons of pictures, I look like a retard in most.
I wore the mint
Milky Berry JSK
from Angelic Pretty and
matching OTK socks
. The miniature hat is also Angelic Pretty, the
Cherry Berry Mini Hat
. Bloomers are from
Baby the Stars Shine Bright
and the wrist cuffs are also
Angelic Pretty
.
The other items are off-brand. The blouse was found at a regular clothing store, the accessories were bought over time, online or in stores, and the shoes are Secret Shop Angelic Pretty replicas. As much as I oppose buying replicas, shoes are my only exception because I can't bring myself to pay over 200€ for a pair of plastic shoes with a bow on them, since shoes are subject to so much more abuse than any other item. It's true that I could buy other shoes instead of opting for replicas, but taking into account the fact that it's hard to find a pair of shoes that will fit this well outside of lolita and I already invest enough in brand items to make buying a couple of replica shoes quite meaningless. Of course this is my opinion, feel free to discuss!
I used a garter belt to keep my socks up and safety pins to keep my bloomers straight and in place.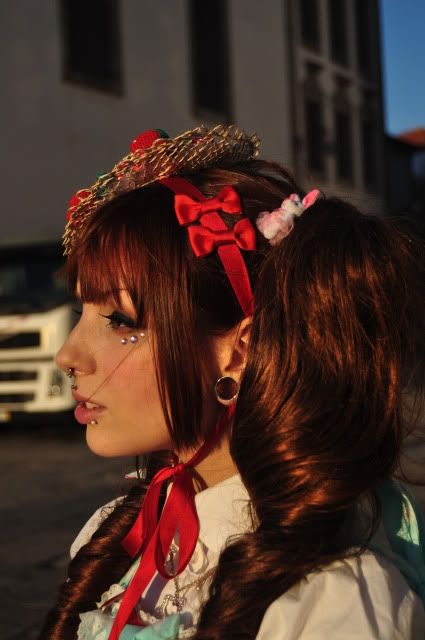 I felt my head-gear was a little unbalanced so I opted for some hair clips on the other side. The red bows matched the hat's ribbon perfectly and were very useful at keeping it from slowly sliding off my head, since the only thing the hat has to keep it on people's heads is the ribbon.
Children's sections in stores are great for finding cute hair clips, all of the clips you see here are from children's sections.
I have my lobes stretched to 16mm, it is somewhat recent and I'm still trying to decide if I want to keep them at 16mm or go over to 18mm before I start investing in prettier jewellery for them.
The next body modification projects I have are nostril piercings (one on each side), stretching my tongue piercing to about 5mm and my septum piercing to about 5mm. As much as I enjoy piercings with lolita and think my modifications are still okay, I have to agree that a 3mm septum ring might look too aggressive, so when wearing lolita I'll probably use a retainer or a set of two small rings, which I think looks really cute and was what first made me want to stretch my septum in the first place. That and the fact that I might be somewhat addicted to body modification haha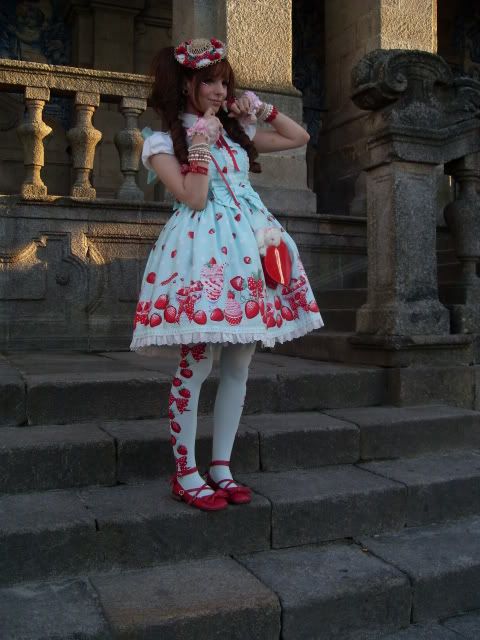 In other lolita-news: I spoiled myself with a bit of a lolita shopping-spree this months and purchased Angelic Pretty's
Jewel Blouse
(whitexpink short sleeve version), the
Strawberry Cherry Satin Ribbon Bolero
(red), the
Polkadot Ribbon Bolero
in white, which I also have
in black
, aaand the
Royal Poodle Skirt
in
blue
WITH the elusive brooch included.
Sure, I am totally broke, but I'm happy and I know I'll wear all of these items since they fit in to my closet. The Strawberry Cherry bolero is an excellent purchase since I have three dresses I can wear it with, the Polakdot Ribbon bolero is versatile and a good way to create different looks for a lot of dresses and skirts. The blouse is a basic piece and my first brand blouse, and the skirt was purchased with the money from a skirt I didn't wear and decided to sell in order to replace it with something I'd wear more often, which I am pretty sure I did.
Thanks for reading!