Yesterday was the Summer International Lolita Day, and so the local community gathered up their frills and we all met at a café in Boavista.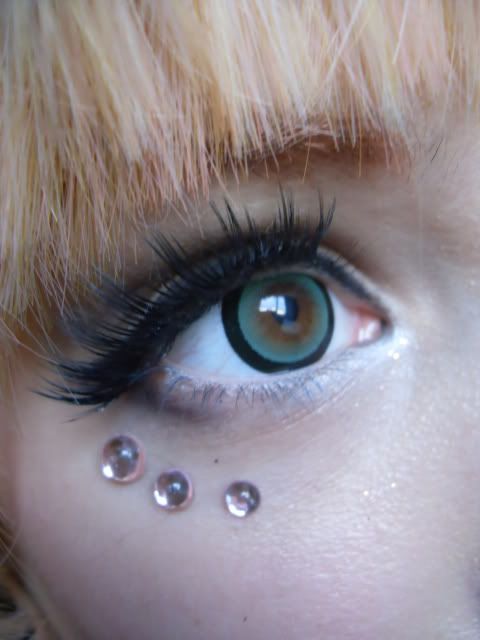 My make-up is pretty much the same as always, not much to add that wasn't said before, except that I added some more black eye-shadow on the upper lid, because I can.
I'm thinking of changing things around a bit next time, maybe. Although I don't change it all the time because I finally found the style that works for my eyes and face, so I figure: Why fix it if it isn't broken?
No matter how many magazines or models or people you try to copy make-up from, it's always important to know what you're working with, don't be afraid to go with your gut and change things around when you're not feeling 100% sure. It's trial and error until you get it just the way you like it and just the way it suits you! Also, remember that often in make-up articles from Asian beauty magazines, where we see most of this exaggerated styles, there is a lot of editing and angles at work, so don't worry if you don't look as good as the models, and don't worry about trying!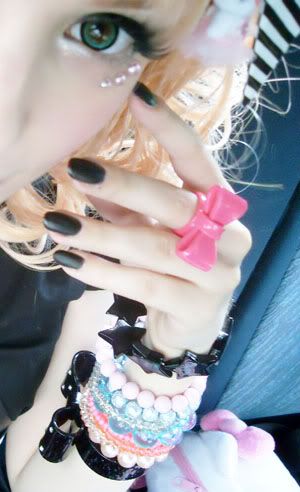 I was actually planning on wearing very sweet lolita, with sax blue and pink and little ears, but when I got my manicure last week I forgot all about these plans and went ahead with a "Louboutin Manicure", so my nails were black and red on the inside of the tips.
Since the spot was the Hello Kitty café, I needed to get some sweet going, and the only sweet item I have in black is my Miracle Candy skirt by Angelic Pretty. So I went for that, and I overly accessorized like a maniac.
I'm wearing my favourite contacts, these green ones with the dark circle border, I believe this model is called bambi or sakura? It depends on the brand, but I've also ordered them in brown and I am expecting them soon. I already payed for them two months ago, I am really not giving that store a good review!
Also, I've been asked where I buy the little jewel stickers I use under my eyes. I've bought these in a craft store in Holland, and I always see them at craft stores. But obviously, they are for crafts and not for sticking on your face,
so it is very important that you remove the adhesive that is on the little jewels before sticking them on your face
. I have neglected to do so once or twice and when I remove them I have red bumps for a few hours on the places where they were sticking which get slightly sore, even if I only wore them for a little. So imagine wearing that all day with that adhesive!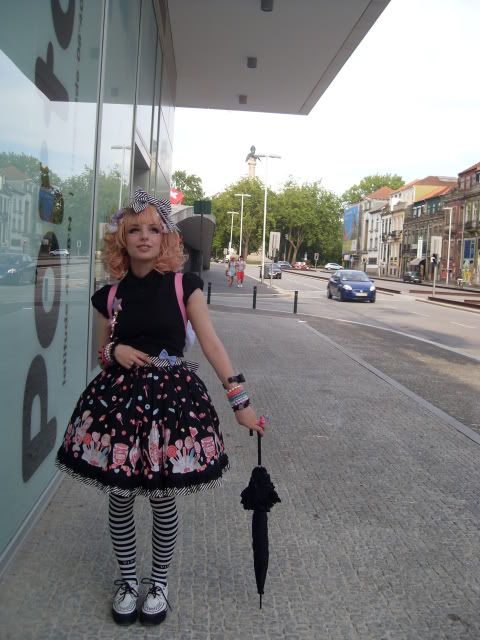 The full look is a bit insane and I can't really define it, I'd say it's a mix between sweet, decora and punk lolita. The sweet elements being the skirt with a clearly sweet-oriented print, the shape of the skirt, the girly blouse and the bow on the head; the decora would be in the overload of bracelets and hair clips and accessories in general, and also my little Hello Kitty face back-pack which you can't see except for the straps; the punk lolita elements are the creepers, stripped socks and spike bracelet. Please not that "punk lolita" is not really about the traditional punk look or ideas, it's more based on a more mainstream view of "punk" fashion.
As you may remember from a somewhat recent coordinate with this skirt, I do have the matching Miracle Candy head-bow in black for this skirt, but I didn't wear it because this wig doesn't really suit Angelic Pretty style bows, since it doesn't accompany them with a dramatic volume on top, and I wanted to vary a little, so I used the detachable bow from the skirt as a hair accessory.
Here is a group shot, I've taken the liberty of covering everybody's faces since it's easier than asking you all for permission to slap your face on my blog, besides I don't have contact with half these individuals because I'm anti social and evil like that, and I don't magically get along with everybody just because we wear the same style of clothes once a month. Yes that was a little bit of a rant based on recent events. Haha! Please respect the fact that I might not want to have a relationship with you outside of the meet-ups instead of creating a problem about it, I am not the kind of person who is comfortable with pretending to get along with every single person ever.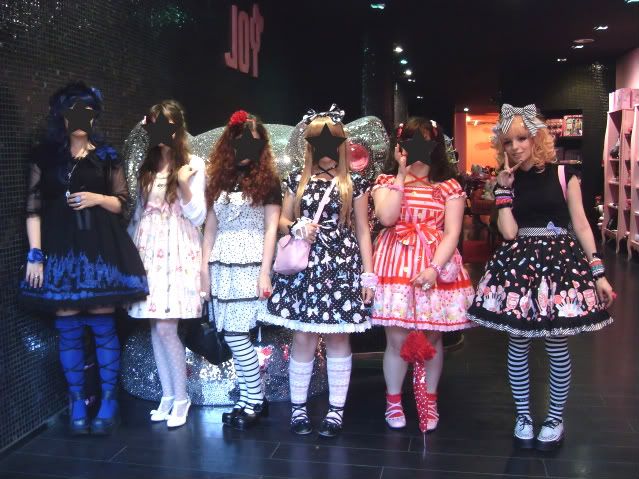 Here's another group picture, again I've covered my frilly partner's visages for the reasons stated above.
This picture was taken at the Hello Kitty store/café with the bitchiest employees I have ever had the displeasure of dealing with. Except for the nice lady at the café, the other women working there were rude, mean and passive aggressive. They really make every aspect of being in that store very annoying, from following people around in silence and standing there with their arms crossed looking at you while you're browsing through the items, to making every single action they carry out to serve you seem like the most torturous situation they have ever been faced with. I kid you not. My credit card wasn't working when I tried to pay for an item, and I was so offended at how they acted that I didn't even bother to go through with paying with another card or cash.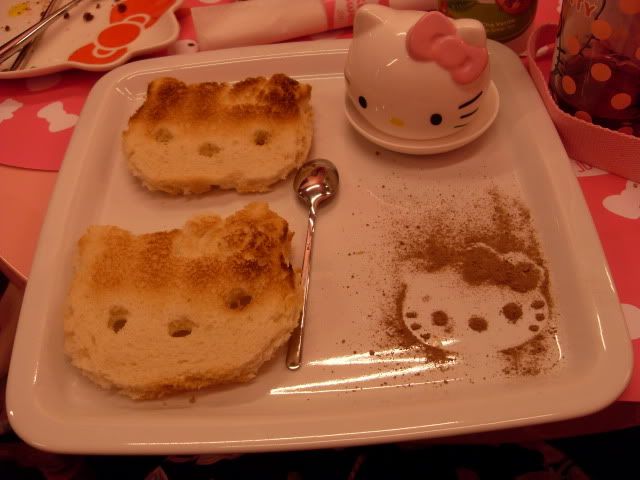 Bitchery aside, the café is quite cute and pleasant and all the food and items are Hello Kitty related! I had some toast without butter since I'm a vegan, but the Hello Kitty head is hiding the horror of honey, which I had thought was jelly. I wish they mentioned that there was honey with the toast so I could say I didn't want that either. But next time I'll know!
I also think it's very cute that the toast is actually shaped like Hello Kitty's head and all the detail that was put in to preparing and serving all the food items. I can't help but wonder if that chocolate powder has powdered milk in it though - haha! I'm a bit of a paranoid vegan, but I don't say anything in these cases since it's already done and it's no big deal for such an insignificant amount of powder. At least I'm making an effort!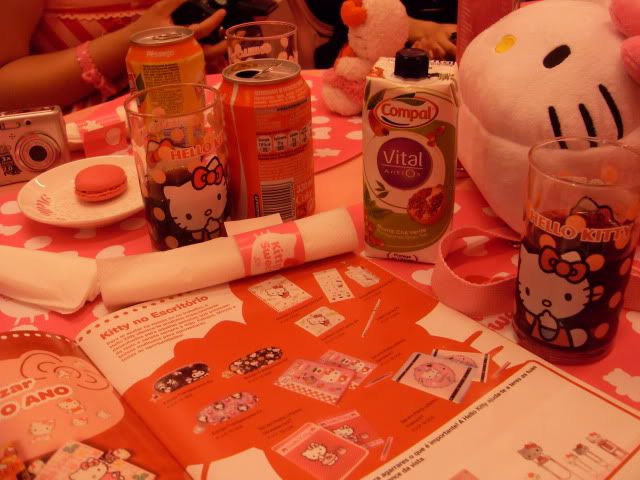 I also had some pomegranate and green tea juice thing, it was very good and fresh, a bit too sweet for me as usual, since I hate overly sweet drinks, especially when tea is involved. I wish there wasn't this insane need for this much sugar in every single drink, unless it's sugar-free or some sort of weird diet thing. Even worse is sweetened drinks. Why can't I just have drinks without sugar, that take away my thirst instead of making it worse on account of the sugar levels.
You can see my Hello Kitty back-pack on the table there, Lucy was eating a raspberry macaroon and we were looking through the Sanrio Catalog for the store. I kept pointing out that I had this and that, it's just another one of those moments in which I feel like I own a very serious amount of Hello Kitty merchandise. And I almost got the contact lens case I need, if it wasn't for the bitchy woman! I'd rather buy it online instead of dealing with them again.