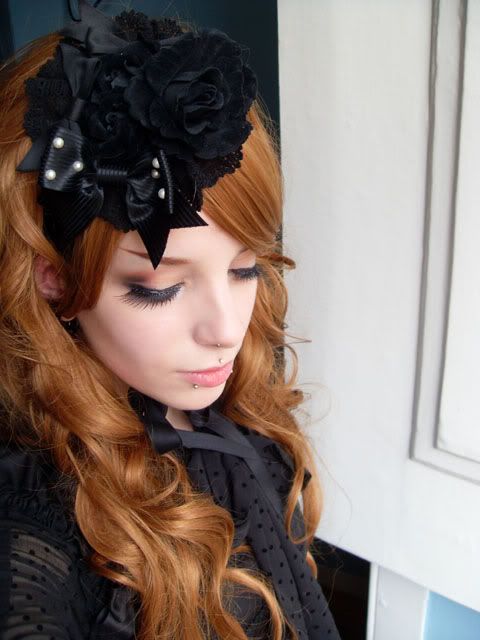 So last week was the Nana Kitade concert in Lisbon, we took this opportunity to also celebrate the community's anniversary.
The even itself wasn't wonderfully organized, but it's hard to take care of something with this many people involved. It was quite a simple day: afternoon tea at a café, pictures, dinner and the concert, which I did not attend.
It's nice to be with the community, though I've decided it's too much social tension for me and I will probably stop attending these big meet-ups, perhaps I'll become a lone lolita.
I wore some sort of almost gothic, almost hime kuro lolita hybrid. It's quite fun to play with different styles and take a break from my usual and favourite OTT sweet style. It keeps me from slipping in to a pattern of coordinating things without having to put any thought into it.
My black simple dress and the white simple dress are my basic and essential closet items, both of them are from Baby, the Stars Shine Bright and they can serve as a base for many different styles, since there is no print, just the basic colour. Both of them are a bit more on the sweet side though so it's not a totally versatile pair, but they sure are more so than the Sugary Carnival, for example.
Not wearing sweet also gives me the opportunity to go heavy on the make-up and create more dramatic looks, which I love.
Sadly, this time I had to do my make-up sitting on a hotel bed with bad light and a small hand mirror while everyone was running around in the room, so it could have been better.
I used dark eye shadows with copper tones, drew my eye brows higher and also more theatrical, I chose very stylized fake eye-lashes too.
I chose a bloo-red shade for my nails instead of the perhaps more obvious black, as I was aiming for a more elegant feminine look as opposed to the dark gothic style. Red is a bit more classic as a nail colour.
Those are permanent fake nails which were applied by my mother, in her salon, she has a wonderful technique and they look perfectly natural. I always found my nails were long and healthy enough on their own so I never got into the fake nail thing, but the fact it that these are stronger, the nail polish lasts longer and the tips are softer than natural nails, so I don't break through skin if I need to scratch (or if I accidentally scratch somebody else!). These are totally comfortable and, as I mentioned before, I'm used to my own nails being long so this didn't bother me at all.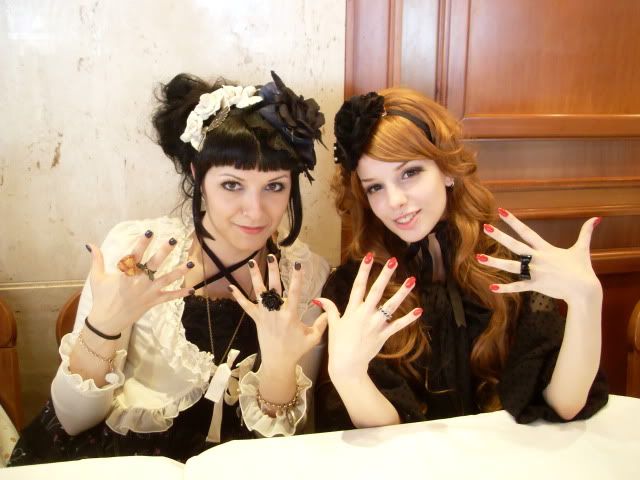 Joana also got a manicure at my mother's salon for the meet up, her nails were a bit shorter because she used to bite hers so my mother thought it was best to take it slow with lengths. Which was a good call because she was having some trouble typing and getting used to having actual nails! haha
I wasn't wearing any bracelets because of my long sleeves, which I unbuttoned and pulled up since that café was infernally hot.
These are the derpy pictures of my full outfits, I ended up not having access to all the pictures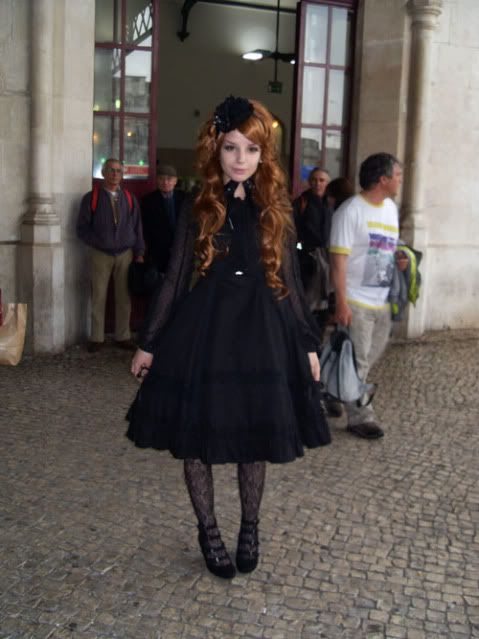 taken because they weren't sent to me or I wasn't given the url+password to the album in which they were uploaded. I don't really know what's going on in that community at the moment, but the official post for this meet up was very sloppy and only the pictures of the author were used, besides that the person who did make the post wasn't one of the organizers or a mod. Strange things and a general lack of organization which have made me give up on that forum.
Moving on, in the afternoon I wore the said hybrid outfit, it was actually quite simple compared to my usual styles. It was also not 100% perfect as I would have liked, but it's hard when you're getting ready away from home, at least for me. I always forget something (or a lot of somethings).
it was quite comfortable, with shoes which only had a small platform, a light wig and blouse. Only the socks were uncomfortable, but I always find lace socks uncomfortable so I knew what I was getting myself in to. I was wearing a birdcage necklace, but the blouse's jabot ended up covering it almost completely.
The Jumper Skirt is from Baby, the Stars Shine Bright (Paris store) and the head-dress is by Alice and the Pirates (same store). Everything else is off-brand from here and there, the shoes which I adore are from Pimkie. Quite a find.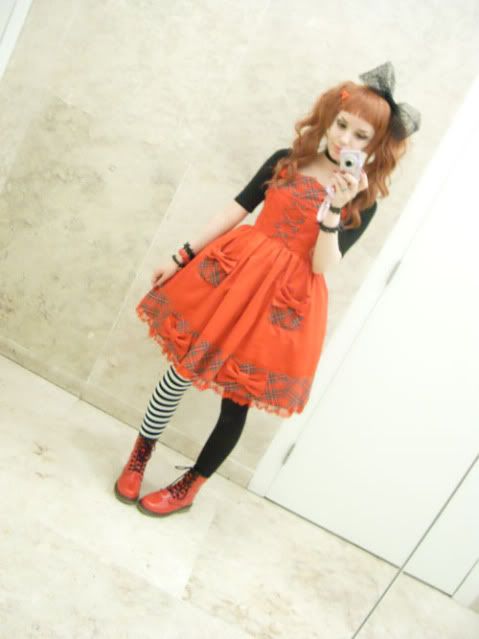 For the evening I made an attempt at punk lolita. It didn't really have the right feel and I believe it looked a little sloppy. I don't really like it anyway and I doubt I'll try again, but it was fun to plan the outfit, even though I always knew in the back of my mind it wasn't going to work out; sometimes I feel like that and in the end my deranged ideas come together. Not this time though. Can't win them all, right?
Despite my total failure, I'll try to combine this dress and these boots again in the future for a casual cute look, it should work out better. I do love this dress and those boots, the dress is so cute and casual without being too plain, and the boots are just pretty awesome. This Jumper Skirt is from Angelic Pretty, not the kind of piece you usually think of when Angelic Pretty is mentioned, but it's a good reminder that they make wonderfully cute designs, not just awesome yet overpriced prints. Sure it's not such a great investment as purchasing a print dress which will probably resell for the same value you bought it for or even higher, this will probably sell for less than it's original value, but it's not the kind of item I buy thinking of maybe selling it later, this is the kind of dress I like to keep in my closet because I just like it in it's non-printy glory. I believe lolita closets need a couple of these items, stuff that you like but that isn't so specific you'll get tired of it eventually.
Well, that was it for my very belated update. There will be another meet-up this Saturday, possibly the last I will attend for a long while. Lets see how that goes.
P.s. Do you like this new format?