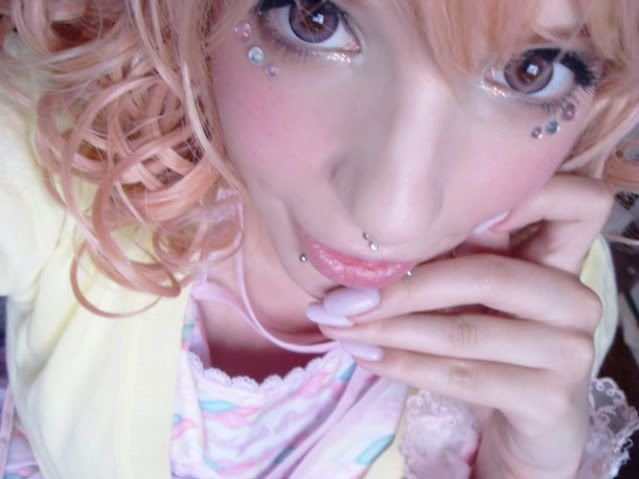 So this Saturday was the casual Meet Up here in Porto, but the "casual" thing was a suggestion and not mandatory, so I kind of ignored it except for wearing a simple cardigan (or that was my argument - haha!).
I wore my lavender Sugary Carnival OP and Head-bow set, and because my fantasy was that for a special edition AP would have launched SC in yellow, I tried coordinating it with yellow details. I think the special edition in that weird midnight blue or purple shade is so off! It's the same as having launched it in royal green or deep red. The colour is too grown up and has more of a gothic/classic vibe, which can work in some AP prints, like Starry Night Theater which is gorgeous in that deep blue, or Holy Night Story in Royal Green. Those work because they aren't absolutely pastel-coloured sweet prints. But hey, I'm pretty sure if there was a special edition in yellow I wouldn't be able to get it and I would have to jump out of the nearest window.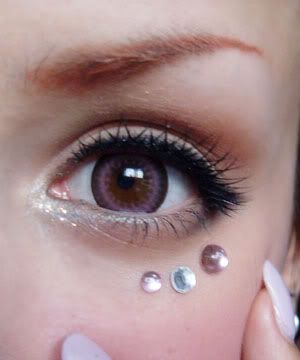 This time I was wearing a wig which was lighter than usual, and it's very important that you eye-brows match your hair, even if it isn't your actual hair! My eye-brows are naturally dark brown, I usually lighten them to a brown-ish shade to match my hair colour, and this time, since my wig was peach, I used a salmon cosmetic pencil to draw over my own eyebrows, and the colour came out about right, a but darker than the wig (since brows are supposed to be slightly darker than the hair) but in the right shade. I used eye-lashes in a crossed style which had glitter on the top side. I also added glitter to the inner corners of my eyes, over the white eye-shadow, and the usual jewels, glued on with eye-lash glue. I opted to vary their colour in this way this time for no particular reason, just because I could. For this dramatic big-eye effect, I don't cut the eye-lashes, I stick them even past my lid and going downwards, as I believe you can see in this image if you click it and look at the full-sized version.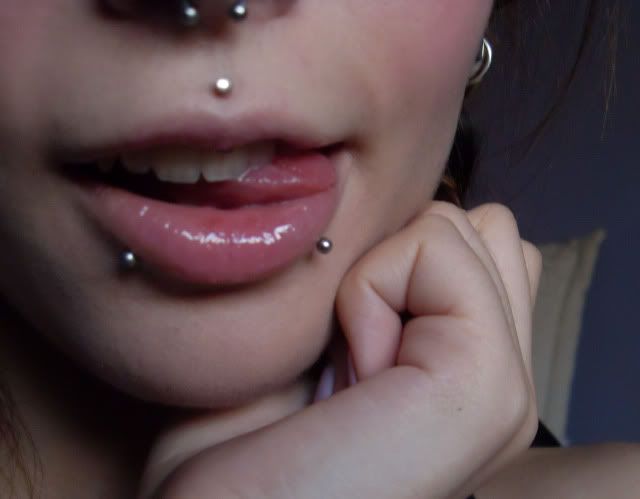 As for the rest of my face, I generously applied pink blush to my cheeks, particularly the part that stands out when I smile (I do this by faking and exaggerated smile while doing my make-up, which I'm sure looks hilarious).
For lips, I apply foundation around the corners and contours, because in my particular case I find them too big. After, I applied a soft pink, almost see-through strawberry flavoured lip gloss! It's important to always apply some sort of lip balm before, as well as some sort of cream on your skin (depending on the type) before applying make-up in general. It's important to take good care of your skin or else everything you put on your face will look horrible in contrast with all sorts of pimples and dryness.
Still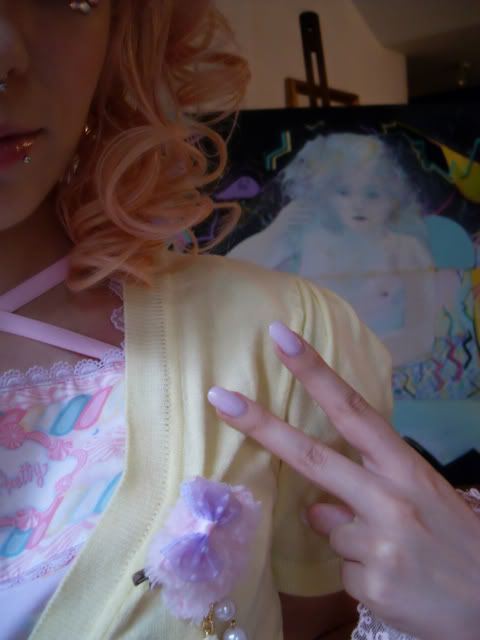 rocking my nails with acrylic reinforcement (there is an acrylic layer over my real nails to keep them from braking and which also makes nail polish stay impeccable for over two weeks - of course by then it has roots anyway).
I chose a lavender colour to match the dress' base and because I had dark nails before and I like to alternate. I didn't wear any rings because I'm generally not a fan of rings so I seldom buy any and none of the ones I owned would match this coordinate.
It's a good idea to always carry around some hand cream, I always have my cherry scented body butter from The Body Shop with me and I use it on my hands, wrists and elbows to keep the skin nice and soft. Dry skin feels terrible and looks ugly! You can tell I am quite concerned with taking care of my skin. But back to the subject of nails! I like mine long and feminine, I really feel like I have horrible man hands if my nails are short. Unlike most people think though, I have no trouble typing or anything with longer nails. Sometimes it's harder to deal with piercings though, changing the jewllery which is so tiny can be a bit of a chore, but that's about it!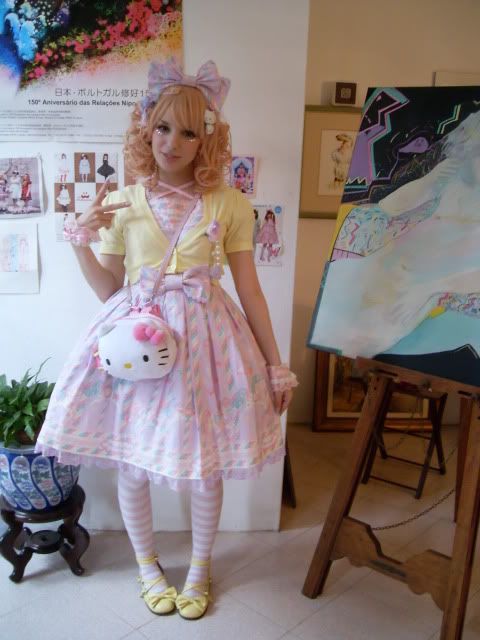 Behold! The complete outfit. One Piece dress and Head-bow set are by Angelic Pretty, as well as the wrist cuffs. The Hello Kitty accessories are from Sanrio and everything else is off-brand.
I know and admit yellow is not the most obvious or even the best colour too coordinate with this print, I also admit I felt a bit overly colourful and a bit wacky. I think the beheaded Hello Kitty bag contributes to the weird feel I get from this outfit.
In the future I'd like to find some nicer socks for this, I'm kind of bored of stripped socks all the time. I'd also be happy with some marshmallow accessories~
Also, I think after wearing this for one or two other occasions, I might put it up for trade because I'd like to have this set in Blue, or maybe even black!
For dress size reference, I am 1.60m tall and weight 46kg. So I'm a size XS or so. It's the standart AP dress size, but with measurements the "poof" should always be taken in to consideration because the poofier you want your skirts, the shorter they get. So if you're already pushing it a little with your size VS the dress' length, take that in to consideration, unless you like shorter skirts in lolita.
I personally find that it's usually not only the skirt area that suffers, but the whole cut of the dress will be in the wrong places if you are too big or too small for them. It's important to find the designs that fit you or, if possible, alter your dresses (I'll probably make a post about altering brand in the future).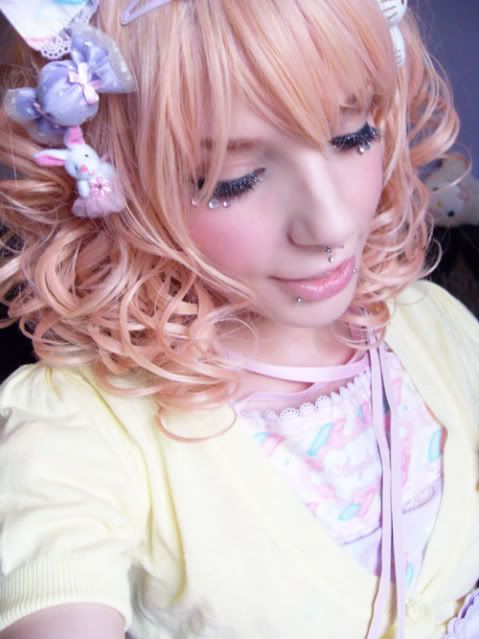 As for the meet-up in itself, it was just me and three other girls, which later turned to 2 others girls and we ended up going to El Corte Ingles at the end of the day because Redtonic's husband mentioned he was going there and we just hopped in.
There we walked around and went grocery shopping, I was very happy to find some items there like sweet chili sauce and vegan cheese! I totally forgot I was wearing lolita at the super marker until a little girl came up to us and started talking, but Lucy is clearly better with children than me, I can talk to them and be around them, they usually like me and all, but I am incapable of doing "kid's talk" or anything like that. And I used to babysit!
But we did get some productive stuff done, we planned stuff for Satuday the 4th, the international Summer Loliday. I already planned out the outfit for this day. Here's a hint: it involves tiny clip-on ears!
As Redtonic said, we need to be more like the southern lolitas and have cute tea parties and some more typical lolita things! We're always being silly and going wherever we think up in the middle of the meet-ups and doing something silly. We're too cool for tea parties~