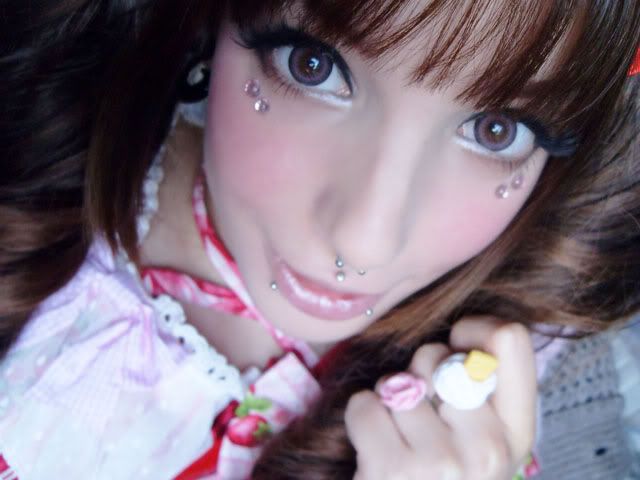 So today was the "Lolita Flea Market" at the local lolita store, Amethyste. It was held as a way to close the store in a fun way, since today was the last day it was going to be open.
I didn't quite know what to wear, My nails were still red so I went from there; I'm still waiting for the wig that will complete the look I want for Sugary Carnival, but I have a manicure appointment on Monday morning and I think I'll already get lavender/pink nails for it. Possibly pink since it's more versatile.
So, as usual I do my make-up before getting dressed, it's a pretty important step to avoid dropping make-up and ruining a dress - Make-up for sweet lolita is becoming my specialty. The point is obviously to create the illusion of big eyes but without making the look appear to dark or heavy. So I only apply eye-liner on the top lid, without reaching the crease, and I use brown eye shadow about 3mm away from the water line on the bottom to create the appearance of bigger eyes. I also use a little black eye-shadow on the corners at the bottom. It's all about shadows!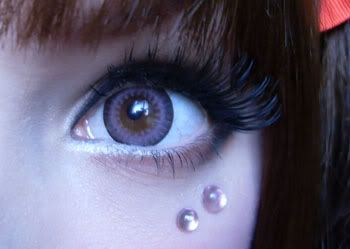 Circle lenses are also a must-have for this exaggerated look, I went for violet contacts this time because I have them and I felt like trying them out, since these are so unnatural, they are obviously only coming out for lolita or other rare OTT occasions.
The little jewels under the corner of my eyes are also a little detail I don't like to go without in sweet lolita, I buy them at craft stores or wherever they show up, and I glue them on my face with a little eye-lash glue
NOT
the glue they originally come with (in the case of the stuff bought at craft stores). I also apply fake eye-lashes, not that my natural lashes are terrible, but this perfectly long doll-like eye-lash style doesn't come naturally! I also applied them a big off the center, again to play around and create a rounder and bigger eye.
Strawberry Ribbon is one of those prints which can go either way: Sweet ou Country.
I already tried and didn't quite succeed with the country feel, so this time I went ahead and did what I'm good at: over accessorizing the heck out of this dress like a good old OTT lolita.
I adore Angelic Pretty's wrist cuffs , I wish I had them in every colour! But at the price they sell for, I'm happy to have at least one pair in the main shades I use. The big ribbon bangles and rings also have a special place in my accessory lust, I love how cute and enormous these are. Some pearl bracelets and glittery ones here and there to add some more bling!
Notice I'm using the accessories to bring out the secondary colour in the print: red! It's so much more fun dragging out less obvious shades from a dress instead of just being obvious.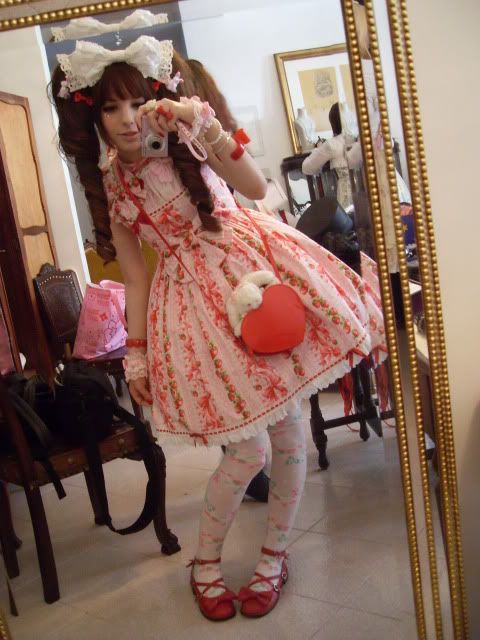 Tada! The full outfit! I admit this is quite a half-assed picture, I will switch it with a better one once people start sending out the ones that were taken.