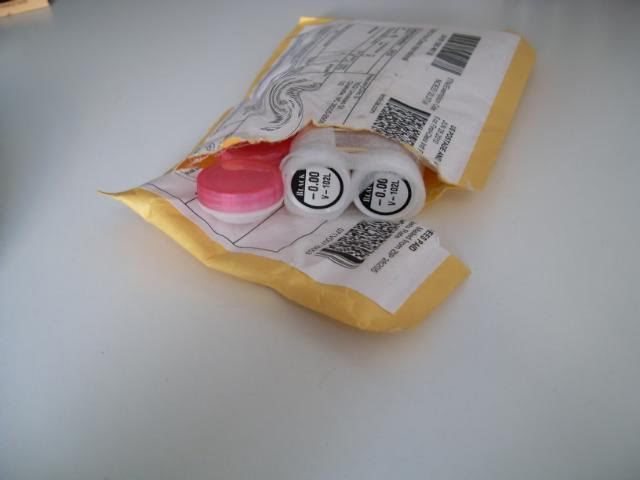 Today I just received my new pair of contact lenses that I ordered from
Circle Lens.net
around the 28th of the past month.
Hoje recebi o meu novo par de Circle Lens, que encomendei da
Circle Lens.net
cerca de dia 28 do mês passado.
The model I purchased is
Hyper Barbie Brown
and their are 14.20mm in diameter. If you follow the link you'll find several model pictures and a comparison one, which I have neglected to take.
O modelo que adquiri foi o
Hyper Barbie Brown
que tem 14.2mm de diâmetro. Se seguirem o link vão encontrar varias fotos de modelos e uma com a comparação, que eu me esqueci de tirar.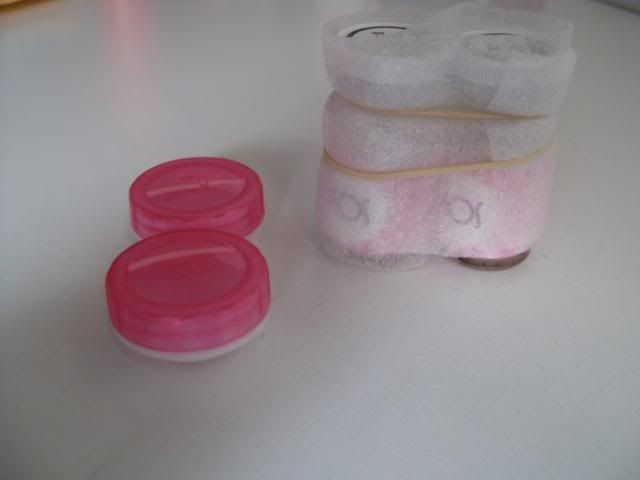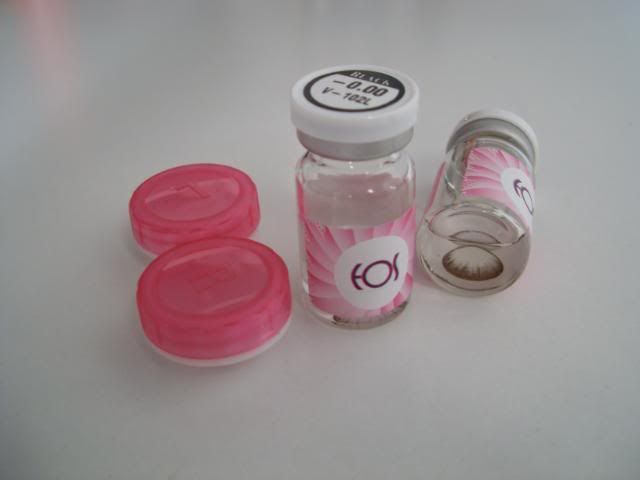 These little bottles can be tricky to open if you're not familiar with the method. Look for the small arrow on the silver part and then pull the white plastic top on that area, you might need to use tweezers in order to save your nails from certain doom, as I did.
Estas garrafinhas podem ser complicadas de abrir para quem não conhecer o método. Procurem a pequena seta na área cinzenta e depois puxem a tampa de plástico a partir desse ponto; pode ser necessário usar uma pinça para salvaguardar a integridade das vossas unhas, como foi o meu caso.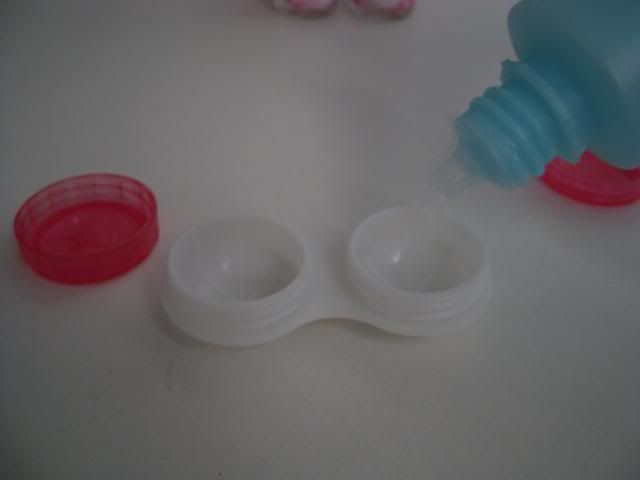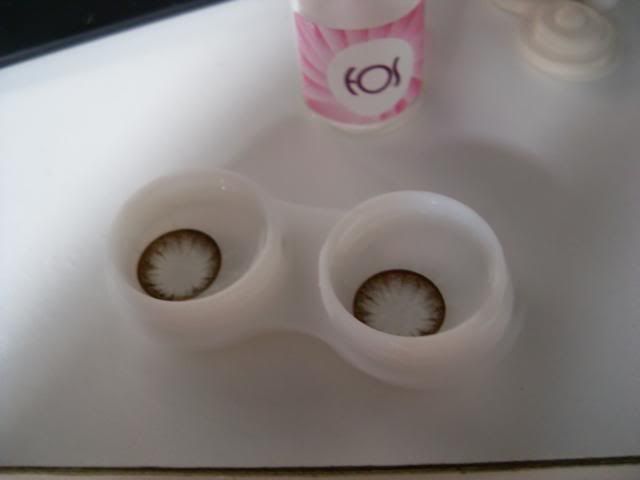 The fluid in which the contact lenses are kept is not good for your eyes, so it is advised that you keep them in proper fluid for a couple of hours (6 I believe) before wearing them.
I also cleaned the case that came with the lenses because it had some dust on it, using the lens fluid also (you should never clean the case or lenses with normal water as it contains bacteria that can be highly damaging on your eyes).
It's important to always follow all the instructions regarding lens care, because your eye's health is at stake when you don't!
O fluido no qual as lentes são mantidas não é aconselhável para os olhos, pelo que se recomenda que as mantenham no fluido proprio durante algumas horas (6, penso eu) antes de as colocarem.
Também limpei a caixa que veio com as lentes porque tinha algumas partículas de pó (que são o terror dos utilizadores de lentes); para esse efeito utilizei também o fluído das lentes, uma vez que a utilização de água na caixa, mesmo que para a limpar, não é aconselhável, uma vez que a água normal contém bactérias que penetram as lentes e podem causar graves infecções nos olhos.
É importante seguir sempre todas as instruções no que diz respeito ao cuidado das lentes, porque é a saude dos vossos olhos que é posta em causa quando não o fazem!

It's best to put on your lenses BEFORE your make-up, not only because you may shed a couple of tears when you put them on, but also because there is greater risk of getting the lenses dirty while putting them on with make-up.
É melhor colocar as lentes ANTES da maquilhagem, não só porque podem lacrimejar ao coloca-las, mas também porque há um maior risco de as sujar quando as colocam com maquilhagem.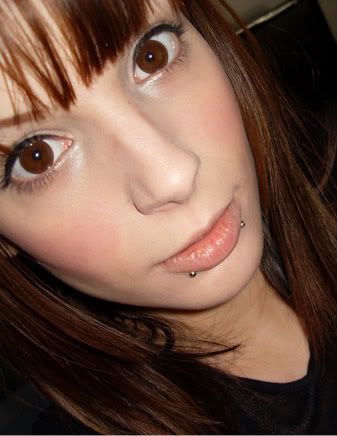 (worn w/ flash)

(usadas c/ flash)
Shopping (0-5): 5
It was very easy to shop in the on line store, they even provide you their stock information so you can see if they have your product in stock, and thus be aware if there will be an extra delay.
The fact that they provide so many example pictures is a great plus in my opinion as I often find myself googling images of lenses when I wish to order a pair and want to know what they look like on a person's eyes.
Another obvious plus of this store is the choice, you have so many styles, colors and sizes to choose from, that you will surely be satisfied with your order.
Compra (0-5): 5
Foi muito fácil comprar na loja on-line, sendo que até disponibilizam a informação de stock, de modo a que possam verificar se o artigo que pretendem está disponível para envio impediato, e assim antecipar eventuais atrasos.
O facto de a loja providenciar tantas fotos como exemplo também é excelente, porque muitas vezes quando estou a ver lentes acabo por utilizar o Google para encontrar imagens do artigo em questão a ser usado.
Outra vantagem óbvia desta loja é a quantidade de lentes que temos à escolha: estilos, cores e tamanhos para todos os gostos.
Communication (0-5): ?
I didn't need to communicate with the store because I didn't have any doubt, though I recieved an e-mail warning me when the order was shipped.
Comunicação (0-5):?
Não foi necessário comunicar com a loja porque não tive nenhuma dúvida, mas recebi um e-mail a avisar-me quando a encomenda foi enviada.
Time (0-5): 5
I received the package about a week after I made the order, which is very good, considering it came from the US and I'm in Europe. It was shipped the day after I placed the order!
Of course my order didn't go through customs, which would have caused a significant delay.
Tempo (0-5): 5
Recebi a encomenda cerca de uma semana depois de ter feito a encomenda, o que é muito bom tendo em consideração que veio dos EUA. Foi enviada um dia depois da minha encomenda!
Claro que a minha encomenda não passou pela alfandega, o que teria resultado num atraso significativo.
Shipping (0-5): 4,5
The shipping costs were around 5$ and, as you can see from the picture the package was well secure and wrapped. I have ordered lenses before that came in a tiny cardboard box, which I feel is better for protecting the integrity of the content. In this envelope there was a chance the small bottles could have been damaged. You never know with postal services.
Envio (0-5): 4,5
Os portes foram cerca de 5$ e, como podem ver pelas fotos, a embalagem era segura e os items foram correctamente embalados. Já encomendei lentes anteriormente que foram enviadas numa pequena caixa de cartão, o que me parece bastante mais seguro, tendo em conta que as lentes se encontram dentro de pequenas garrafas de vidro que podiam ter sido danificadas durante o envio. Nunca se sabe com os serviços postais.
Price: $46.50 USD incl. shipping
It's not too expensive or cheap, I find it to be the standard price for this product.
Preço: 36.76€ portes incl.
Não é muito caro nem barato, penso que é o preço normal para este tipo de produto.
In general, I am very happy with this store and I will order from them in the future!
If you have any questions please feel free to comment and I'll be sure to get back to you as soon as possible.
Em geral, estou muito contente com a loja e vou encomendar através da mesma novamente no futuro!
Qualquer questão não hesitem em comentar!