This is a small review for the online store
Nana Jun
and Secret Shop Tea Party Shoes (the Angelic Pretty replicas). I will also provide a small comparison between the orignal shoes and the copies.
Payment was made through Paypal, with a 15€ fee at the time of the order and the final payment when the order was ready to ship.
O pagamento foi feito com Paypal, como seria de esperar, tendo pago primeiro um sinal de 15€ e o restante quando a encomenda estava pronta a enviar (segundo a vendedora).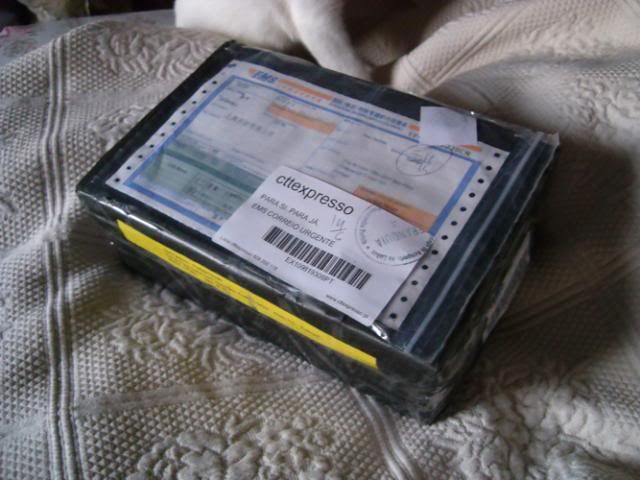 Comunication (0-5): 2,5
There was a time at which I couldn't contact the seller for almost two weeks, which was made more annoying by the fact that the second invoice was late, according to the initial two week order->shipping estimate.
Comunicação (0-5): 2,5
Houve uma altura em que durante umas boas duas semanas deixei de obter resposta, por mais que insistisse. O que se agravou pelo facto de o segundo "invoice" estar atrasado em relação à estimativa que me tinha sido dada antes da compra.
Time: about one month since the moment in which I ordered them.
No custom horrors!
Tempo: cerca de um mês desde o momento da encomenda.
Não tive de passar pelos terrores da alfandega!
Shipping (0-5): 5
As you can see the order was properly sealed and wraped in descreete paper.
It was marqued as "gift" and shipped through EMS.
Envio (0-5): 5
A encomenda, como podem ver, veio devidamente selada e embrulhada num papel discreto (o que é bom porque passa mais despercebido na alfandega) e vinha marcada como "gift".
O envio foi feito pela EMS, senhores que tiveram a amabilidade de não tocar à campainha, limitando-se a deixar o papel na caixa do correio a dizer que ninguém atendeu. Mas isso já é com os funcionários dos CTT que às vezes têm destas coisas.
Price: 68€ incl. shipping costs
It seems to be the normal price for brand new Secret Shop Tea Party shoes, I don't think it's too much especially taking in to account the price of the originals sold by Angelic Pretty, which are made from the same materials.
Preço: 68€ com portes
Estou na ideia que este é o preço normal que se paga pelos Tea Party novos da Secret Shop, não acho que esteja alto, especialmente em comparação com a Angelic Pretty que os fabrica do mesmo material.
In general, this was not a bad experience though it could have been better. I intend to order from this store again, more Tea Party shoes and some parasols to use in the rain, so I don't damage the brand parasols in the rain.
Em geral, não foi uma má experiência mas podia ter sido melhor. Faço tensões de encomendar desta loja novamente no futuro, mais Tea Parties e para sóis para usar à chuva (não me apetece estragar os de marca na chuva).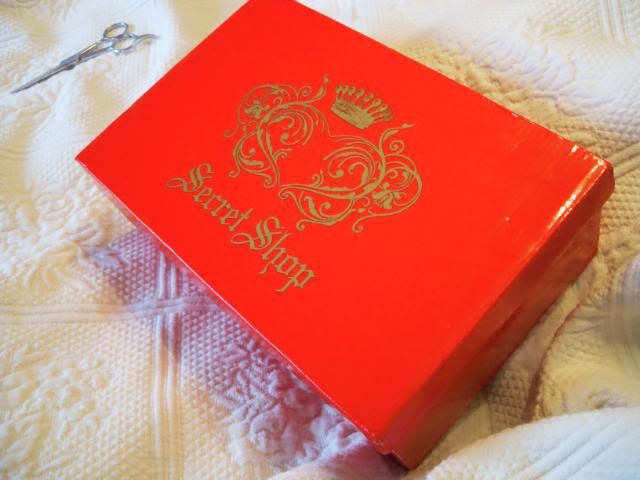 Secret shop has a new look!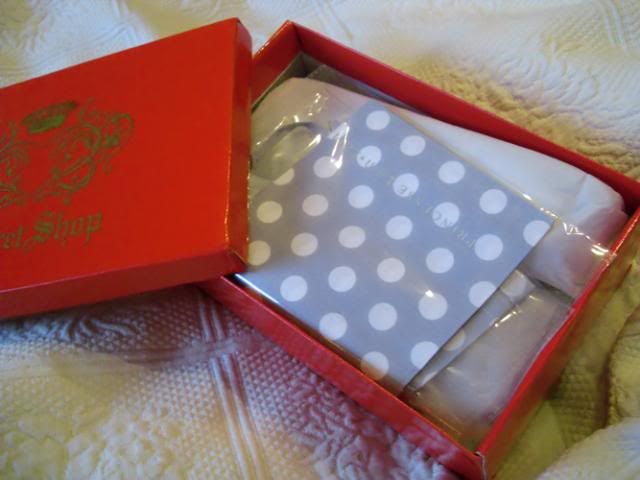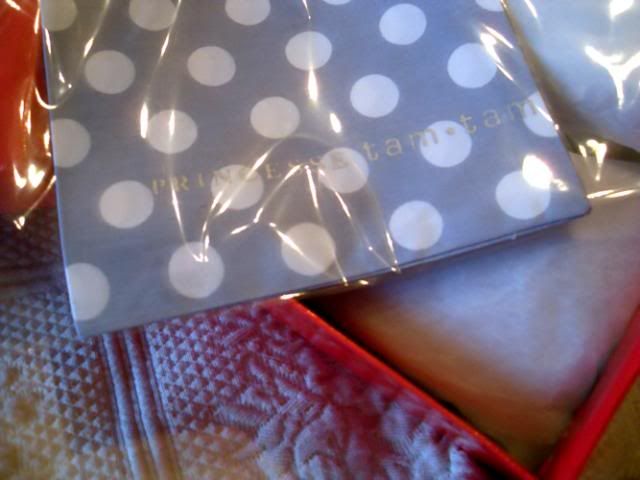 FREE BAG!!! Free "Princess Tam-tam" bag. At first I thought it was to put my shoes in, but when I opened it I realized it would only fit one shoe. So I guess it's a random gift, which I will gladly use to store my accessories in the huge bag i'm taking with me to Holland.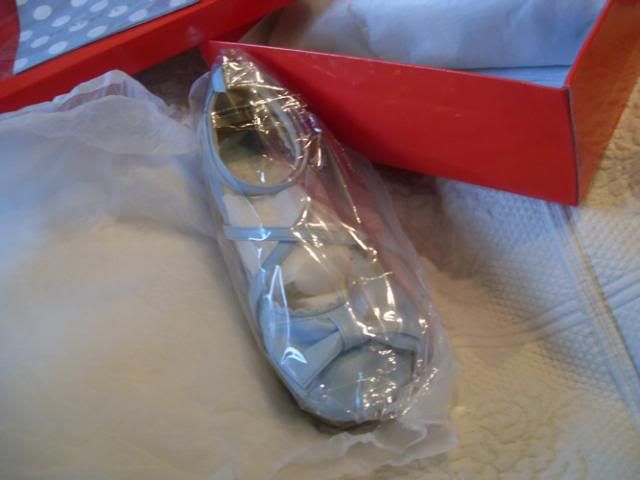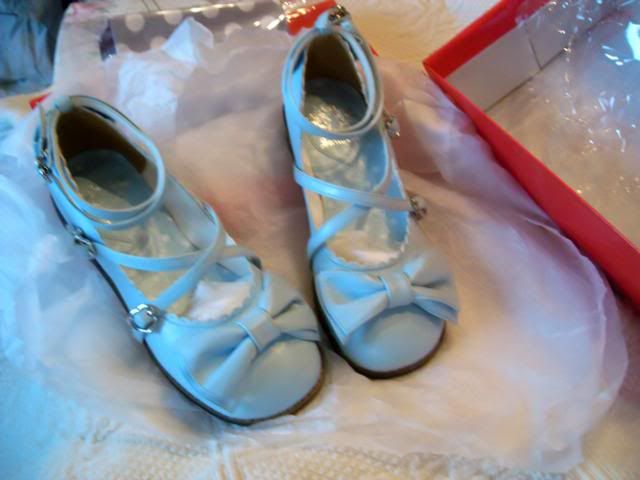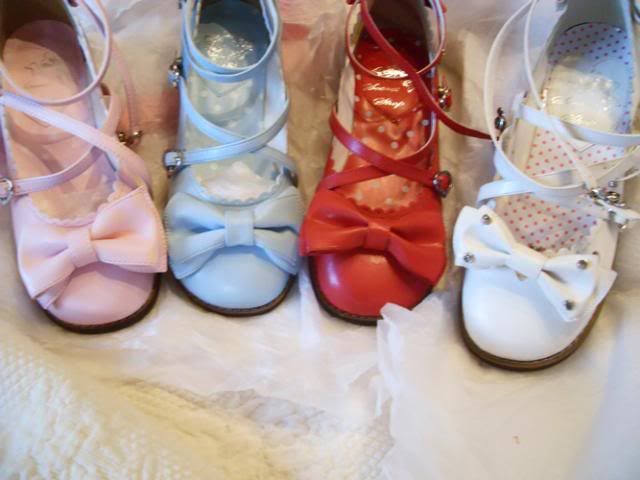 I only have them in 4 colors, though I still want them in lavander(shown bellow), brown, mint, dark pink and black.
You can clearly see in this picture that the blue ones have a different symbol and clearly flatter bow, in similarity to the Angelic Pretty originals.
Podem ver que, em comparação com os mais antigos, não só o símbolo mudou, mas também o laço, que agora é mais achatado e colado ao sapato.
These are the original Angelic Pretty Tea Party shoes, as you can see, the bow is more "squashed" down then in the case of the older Secret Shop replicas. But now, Secre Shop seems to be squishing their shoes' bows aswell.
Outra diferença entre as replicas da Secret Shop e os originais, que se mantém, é a maior quantidade de tecido no laço, no caso dos Secret Shop (a parte superior do tecido faz um laço verdadeiro que dobra sobre si enquanto que os da AP têm apenas uma camada de tecido a fazer o efeito de laço).