The dutch lolita community had a "mini" meet-up (to which about 20 people showed up!) this Tuesday. This was the first time I attended a meet up with the dutch community and I really enjoyed it, especially because I got to hang out with some of my favourite lolitas!
I finally wore my intimidating red and pink polka dotted skirt by Angelic Pretty, from their colourful drop series. I loved how it turned out even if I ignore a couple of lolita guidelines!
A comunidade lolita holandesa organizou um "mini" encontro (para o qual apareceram cerca de 20 pessoas!) esta Terça. Esta foi a minha primeira vez num encontro da comunidade holandesa e gostei muito da experiência, especialmente porque tive a oportunidade de estar com algumas das minhas lolitas favoritas!
Finalmente usei a minha saia intimidade vermelha e rosa às bolinhas da serie Colourful Drop da Angelic Pretty. Adorei o resultado final apesar de ter ignorado algumas linhas orientadoras do estilo lolita!
Happy lolita who's shoes are accepted by fellow loli's:
Lolita feliz cujos sapatos são aceites pelas camaradas lolitas:
Happy lolita who won't break a leg in the snow:
Lolita feliz que não vai partir uma perna na neve: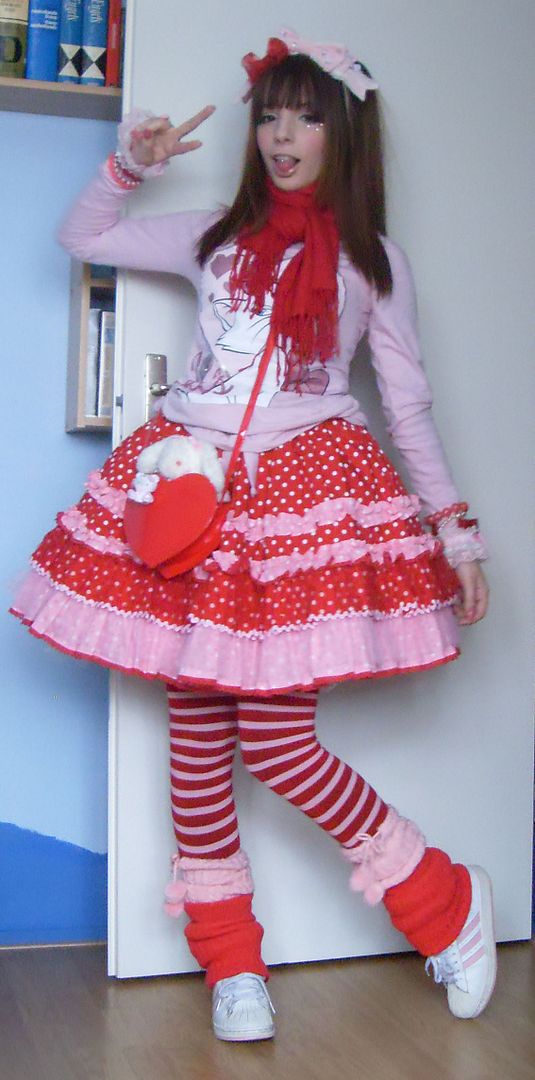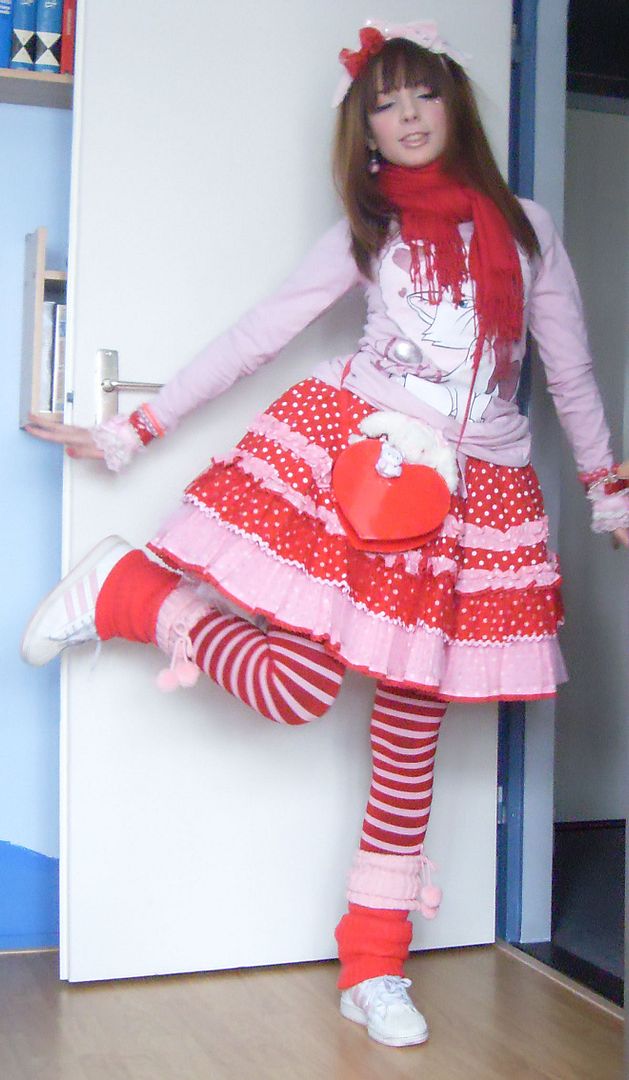 I must admit I like the outfit just as well with the adidas shoes, it matches the more "decora" or "Fairy kei" side of this look.
I didn't wear a blouse, and I added leg warmers and the adidas were for practical reasons because you can't walk in the snow with rocking horse shoes. The lack of blouse and adding leg warmers didn't stand out too much in this outfit because it is more of a strange and playful look rather than an elegant toilette being ruined by elements that don't fit in. In this case the leg warmers give that chunkier cartoon-like feel to the general outfit and also cover the top part of the adidas which makes them blend in better.
Devo admitir que gosto tanto do conjunto com as adidas, porque vai mais ao encontro do lado "decora" ou "fairy kei" deste "look".
Não usei blusa e acrescentei caneleiras e as adidas foram escolhidas por razões praticas porque não é possível andar na neve com sapatos Rocking Horse. A ausência de blusa e o uso de caneleiras não se destacou demasiado neste conjunto porque o "look" inclina-se mais para o infantil e estranho do que para o de uma toilette elegante que estaria a ser arruinada por elementos que não encaixam. Neste caso as caneleiras dão aquele aspecto mais denso tipo desenho animado ao conjunto em geral, ao mesmo tempo que cobrem a parte superior das adidas o que faz com que se misturem melhor.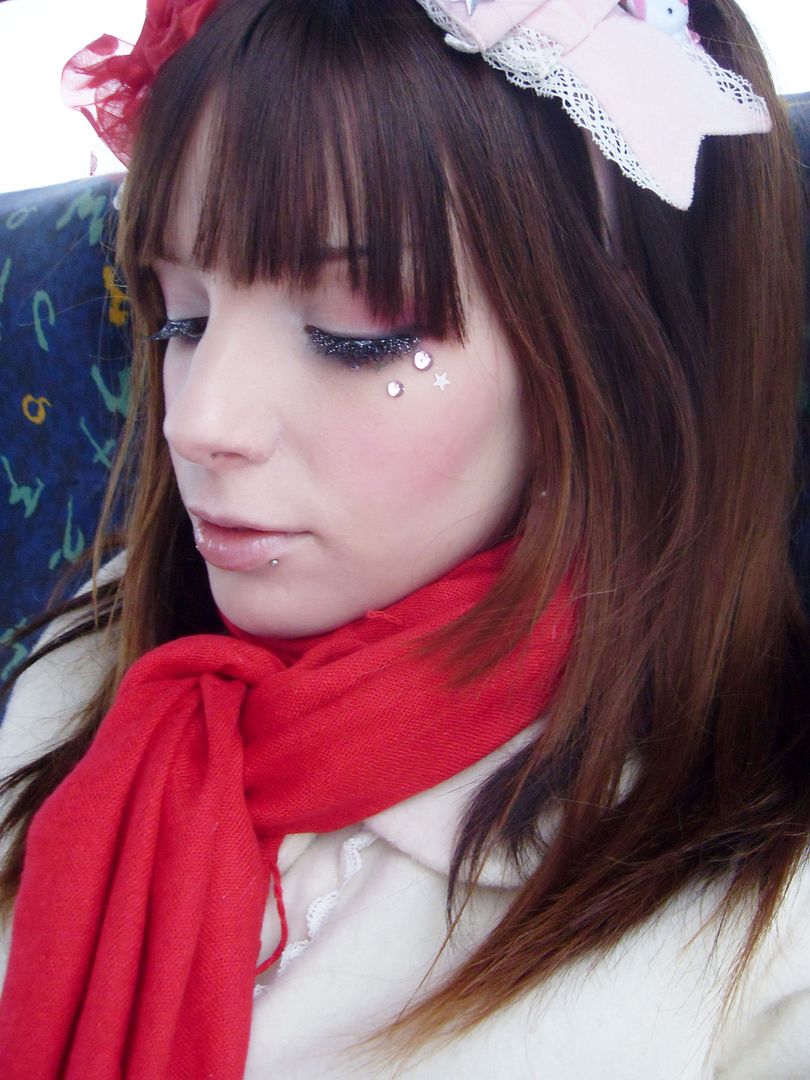 My make-up choices are the union of what flatters my eye shape, what matches the outfit, and what my inner child believes to be the right choice. This would be where the whole thing with sticking plastic jewels on my face comes from.
As minhas escolhas de maquilhagem são o resultado da união entre o que favorece a forma dos meus olhos, o que condiz com a roupa e o que a minha criança interior crê ser a escolha correcta. É daqui que advém toda aquela coisa de colar jóias de plástico na cara.
Tiny and proud!
(esta é a minha forma de demonstrar afecto e admiração)
One of my favourite lolitas ever! She is so elegant and has wonderful taste :D

Uma das minhas lolitas favoritas! Ela é tão elegante e tem um gosto maravilhoso :D
For this meet up we had lunch at a small café in Utrecht, from there we went to some vintage and fabric stores, in which I got some items for my future mori girl and dolly kei adventures! After we stopped to have a snack at V&D, but my flu and lack of sleep were catching up with me so I left the other girls to their delicious activities and came back home.
Neste encontro almoçamos num pequeno café em Utrecht, de onde partimos para visitar algumas lojas de tecidos e artigos vintage, nas quais eu adquiri alguns artigos que serão usados para as minhas futuras aventuras nos estilos mori e dolly kei!
Depois paramos para lanchar no V&D, mas a minha gripe e falta de sono começaram a afectar-me e então deixei as outra rapariga às suas actividades deliciosas e voltei para casa.